I love to cook. I find it relaxing and creative and fun. As it turns out, I also love to eat! Funny that. Thai food being one of my favourites, taking a cooking class as I travelled was a natural fit. There are no shortage of classes in Chiang Mai, and I really chose the Thai Kitchen Cookery Centre randomly. I had researched several companies online and read a number of brochures, and they all seemed quite similar, price-wise and dish-wise.
I have to say, I think I won the cooking-school lottery with my choice. I ended up booking with Thai Kitchen for their evening course. I figured it would be a great dinnertime activity. I saved up all my meals for the day so I would go into it hungry. Turns out I was pretty much a fail, only being able to eat half my food, but not because it wasn't delicious! I just can't eat four full servings of anything in one sitting. Except pie. I could probably eat a whole pie.
The class was from 4:30-7:00, with pickup at my hotel before that. How's that for service? Turns out there were only three of us booked for the class, so we got great individual attention and our instructor (whose name I forget!!) was able to answer lots of questions. I learned a ton. She spoke brilliant English and had been teaching for 14 years. And when Deanna, the other woman learning alongside me (half of a newlywed couple with her husband David), asked about papaya salad, our instructor offered to throw it in as an extra dish because with our small group, it would be no problem to fit in! Bonus!
We went to a small local market on the same road as my hotel in the northeast part of the Old City of Chiang Mai. She explained some of the different ingredients, showed us what they looked like, and let us smell several herbs. We bought our ingredients, and she even helped me to find some black sticky rice to take home. I wasn't thinking about lugging a heavy bag of rice or the 1 kg of coconut sugar I bought earlier for another 7 weeks. Think I need to send a package home already!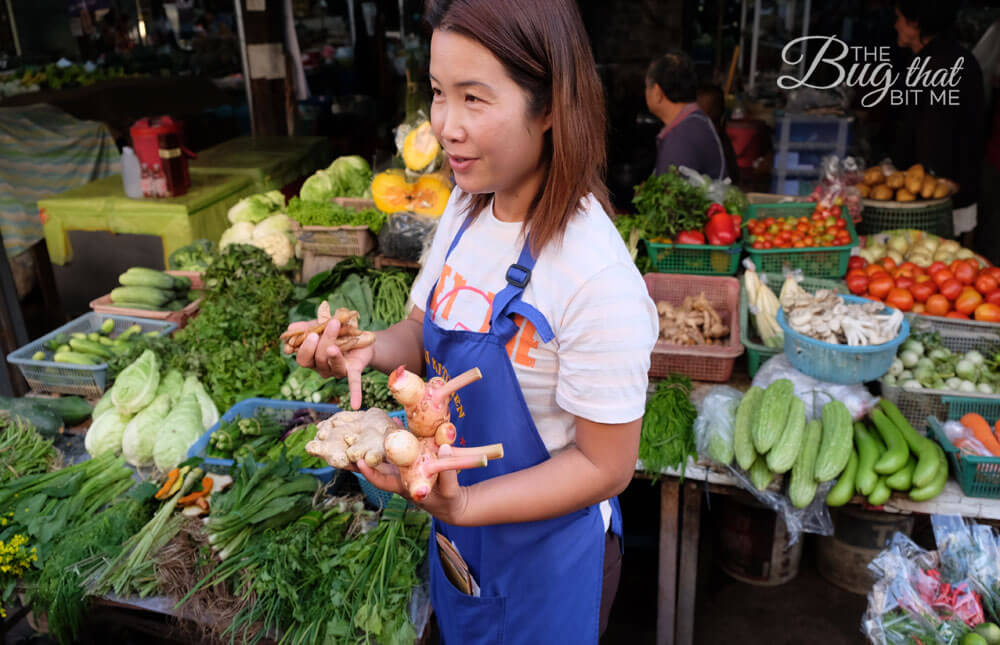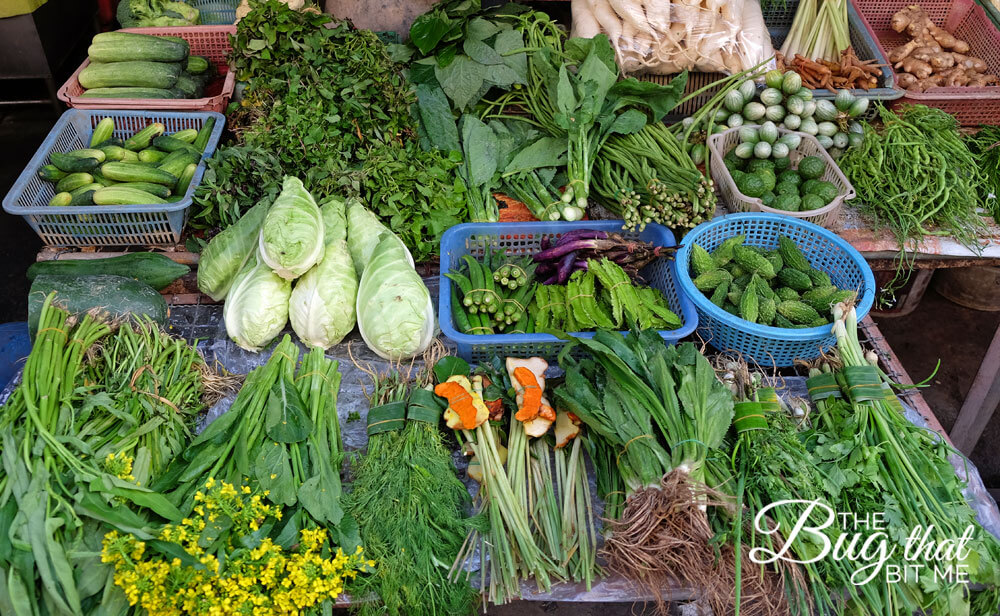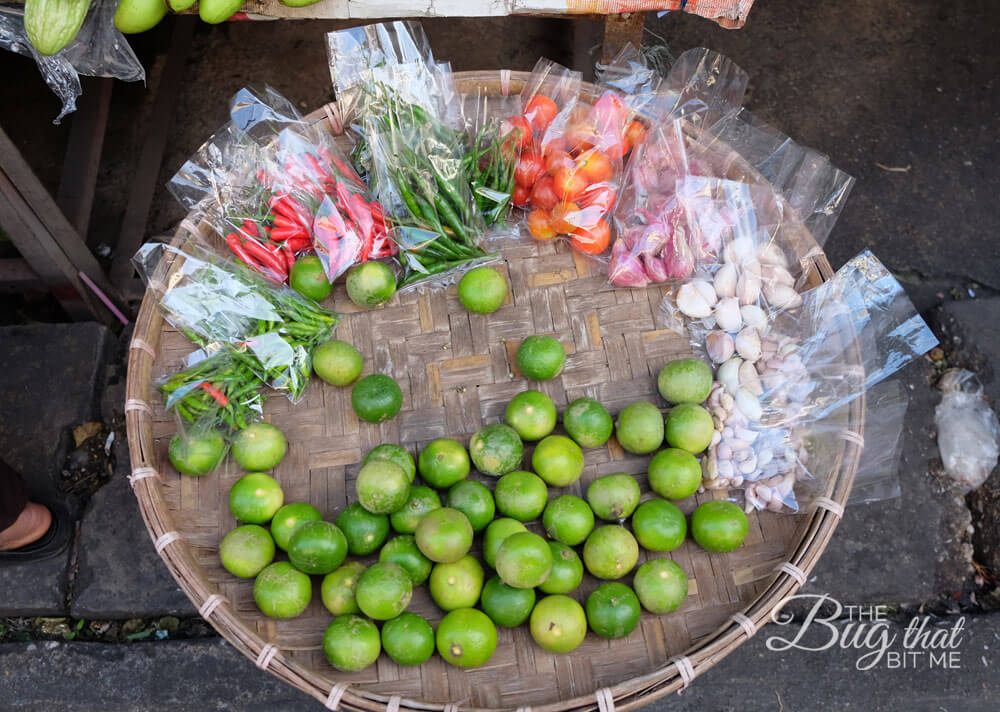 The driver took us to the cooking school near Tapae Gate. It is a fantastic setup, with 12 clean, modern stations surrounding a couple big tables where we did our prep and enjoyed our meals. Back at the market, we were able to choose four dishes from four different categories. Everyone is able to personalize their choices so there is no set menu. This is one of the things that led me to choosing Thai Kitchen. I loved the idea of learning to cook what I wanted to cook, not having the choice dictated to me. And when I saw tom kha gai on the menu, it sealed the deal. It's the one dish I love that I haven't been able to make a reasonable facsimile of in my Canadian kitchen.
We started with the papaya salad, using a sort of handheld grater to slice it into strips and a big wooden mortar and pestle to smash the ingredients and bruise the papaya. It was explained that a wooden mortar is used for papaya salad, not the stone pestle we used for the curries so that the fruit doesn't get too beaten up. Everyone had their own and we got pounding! On a side note, I wouldn't mess with a Thai woman. Anyone doing that much pounding on a daily basis must be one tough cookie. It's no easy job.
We were able to add our own chilies to make the dishes as hot as we wanted. I added two bird's eye chilies to my papaya salad and it was perfectly spicy, making my nose run but not giving me the hiccups! I don't know when that all started, but I'm not amused with my body's somewhat new response to spicy things.
As we ate, a team of Thai cleaning fairies whisked away our dirty stations and replaced them with clean trays that had all our ingredients laid out for our next dish– curry paste. I chose khao soi, the local Chiang Mai specialty. I had never made it at home and after having it a couple nights before, thought it would be great to add to the arsenal. We chopped galangal, chilis, lemongrass, onion, garlic and some herbs and spices, and pounded it all to a (mostly) smooth paste in the stone pestle. David made green curry paste and it was spectacularly green! Nothing like the paste I buy premade.
Next, we prepped the rest of the curry ingredients and chopped what was needed for our other dishes, in my case, pad thai and the eagerly anticipated tom kha gai. Every time we finished with one set of ingredients, magically, the dirty dishes were cleared up and shiny new trays placed before us. Boy, would I love this service at home! I may love cooking, but cleaning is not something I expect I'll ever enjoy.
When we finished all our prep, we moved our trays with the ready ingredients to our woks. Now it was time for the magic to begin! We started with the khao soi, frying the paste first in a bit of coconut cream to cook it, then adding chicken and coconut milk to finish it off. We ate it over noodles, not rice, with pickled vegetables, red onions, cilantro and crunchy noodles on top. It came together in a flash. The joys of having a sous chef to prep and clean up for you! I could get used to this.
Next was the tom kha gai. It was so simple! It went together in a matter of a couple minutes, then we boiled it, which allowed the tomato to turn the broth a slight pink colour. We tasted it to see if we got the balance right. Heaven! I hadn't had my beloved tom kha gai since leaving Vancouver and it didn't disappoint. Even if I messed up everything else, I would go home happy.
Lastly was the pad thai. Our dishes came together so quickly that the first one was still hot by the time the last one was finished cooking. We proudly carried our creations to the big communal table and stuck in! Everything was delicious. I've never had better at any Thai restaurant. David and Deanna had never cooked anything before and this feast was their first crack at it. As newlyweds, what a great way to begin your domestic life together. They were beaming with pride!
I could only get through half my food, which was a disappointment. Had I done the full class, a dessert would have also been included. As much as I loved the options, I think dessert would have put me over the top. Lucky for me, the dessert recipes I love are in a beautiful little cookbook that was included with our course. And our wonderful instructor gave me a few extra tips and tricks for getting things just right.
I give Thai Kitchen a 10/10. We were treated very well. The instructor could not have been better, giving us a lot of attention, answering my million questions with a smile, and explaining how to sub things like dried galangal for fresh when cooking back home in Canada. We also got an extra recipe thrown in, which made us feel the value of the class was even better. She also made us laugh and made us feel very welcome. We all left feeling like we had learned a lot, and had a great time doing it.
You can contact the Thai Kitchen Cookery Centre here.
The cost for their half-day class is 800 baht, or 1000 baht for the full day. Go hungry!