Chatuchak, the massive weekend market in Bangkok, is a veritable landmark that draws thousands of Thais and foreigners visitors, so it was with great excitement that I set off early Saturday morning to see what treasures I could uncover. Getting there was easy. I took the BTS to the Mo Chit stop and followed the crowds out exit 1, across the walkway, and down into the market. No fear of turning the wrong way here, just be a sheep. When you enter, make note of your section and soi, and if you can, some landmarks to help you get back. I spent a frustrating 90 mins trying to get out of the place!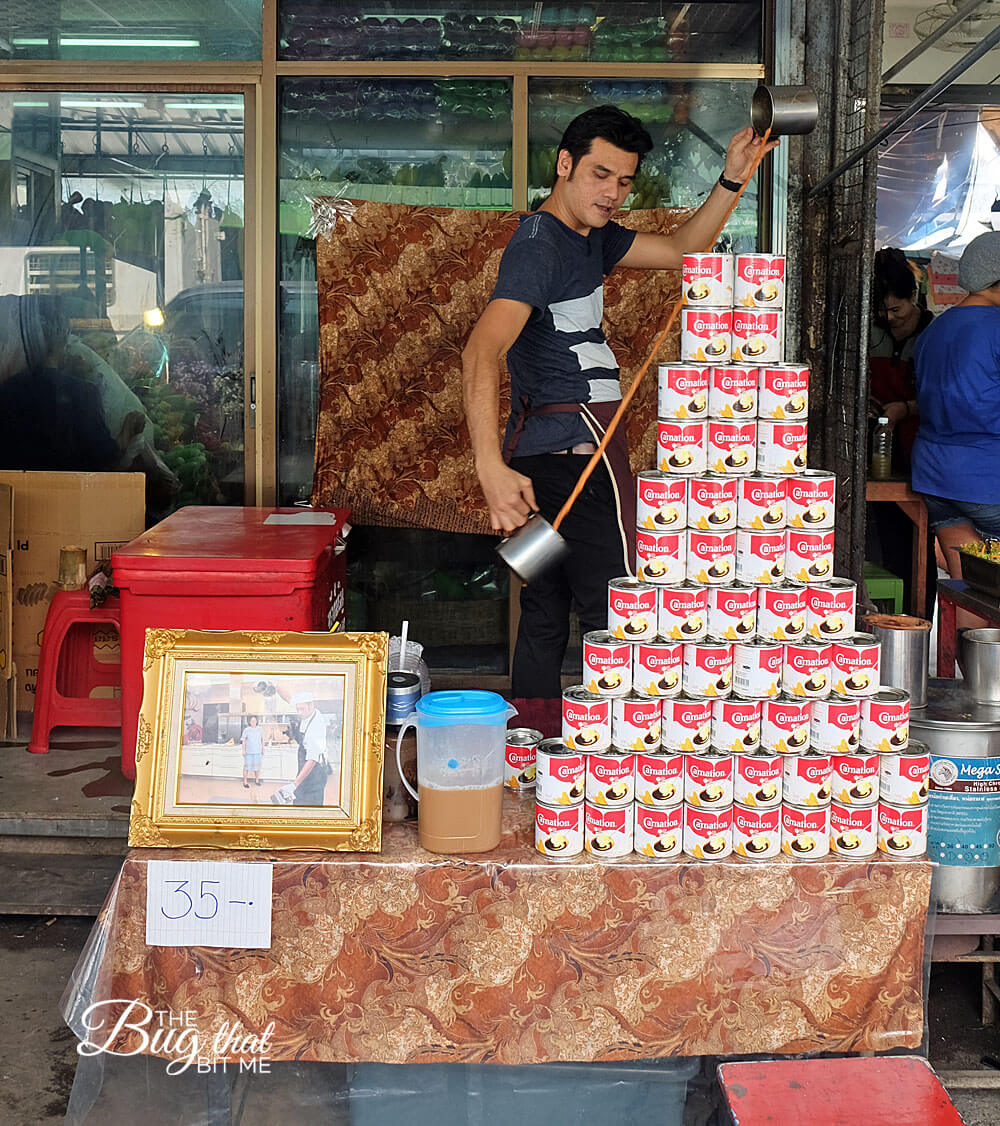 The crowds will lead you to the entrance at the clothing section of the market. The market is neatly divided up in to sections based on goods for sale, and these sections are divided by streets or sois. You'd think that would make it easy to find your way around, wouldn't you? Make sure you have comfy walking shoes on and a map saved on your phone.
I was surprised at the vendors in the market. No one was pushy or seemed overly keen to sell. There were no shop owners calling out to me to buy, and the few things I did inquire about, the prices were firm. No one was interested in haggling. Prices were steep, certainly more than I expected. I saw some beautiful coconut bowls, the inside enamelled in gold, turquoise and pearl on the inside. The price was 180 baht ($7 CDN) firm. There was an offer to reduce the price a fraction if I bought two. There were baskets filled with glossy seashells for $8/shell, pretty sticks for my hair for $5 (that I later bought in Bali for $1). No haggling, all firm prices. What fun is that?! It was so unlike other markets of this type that I've been to where sellers will chase you down the aisle if they sense interest.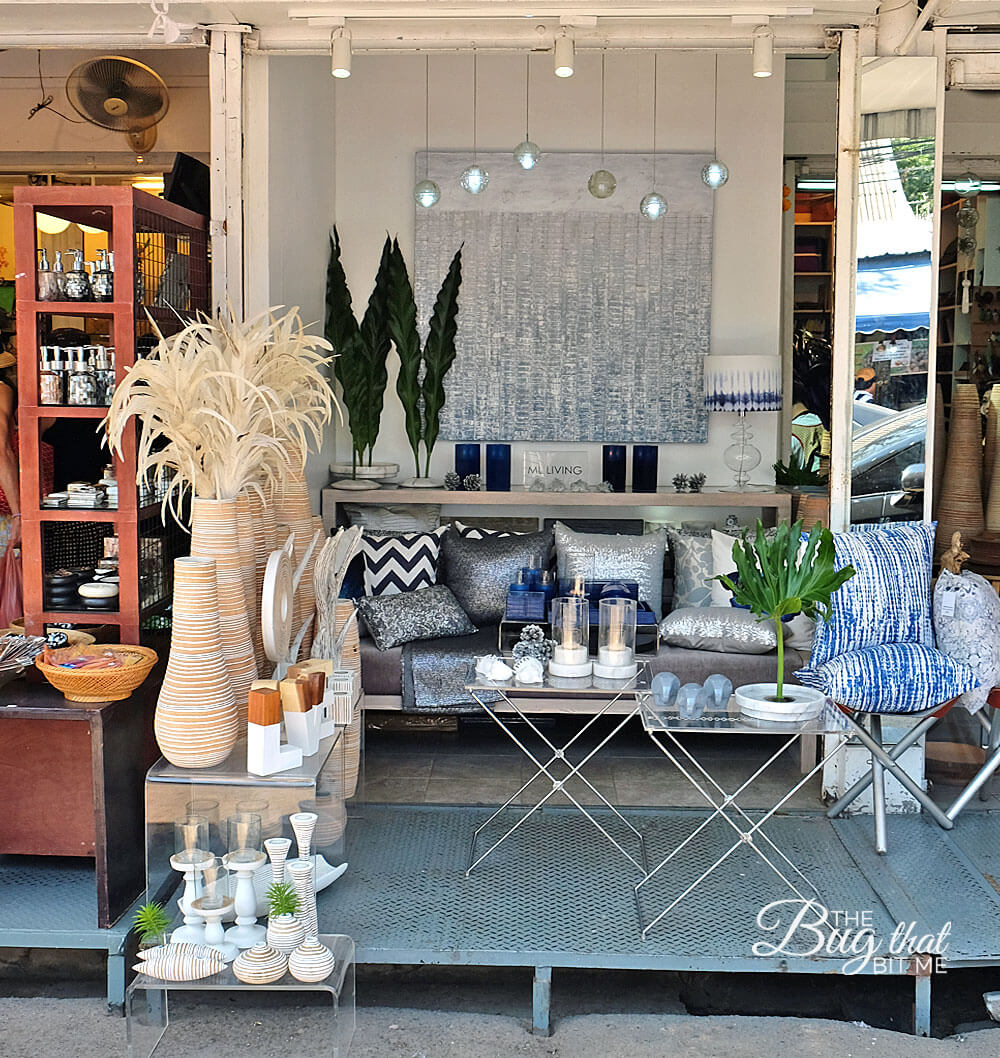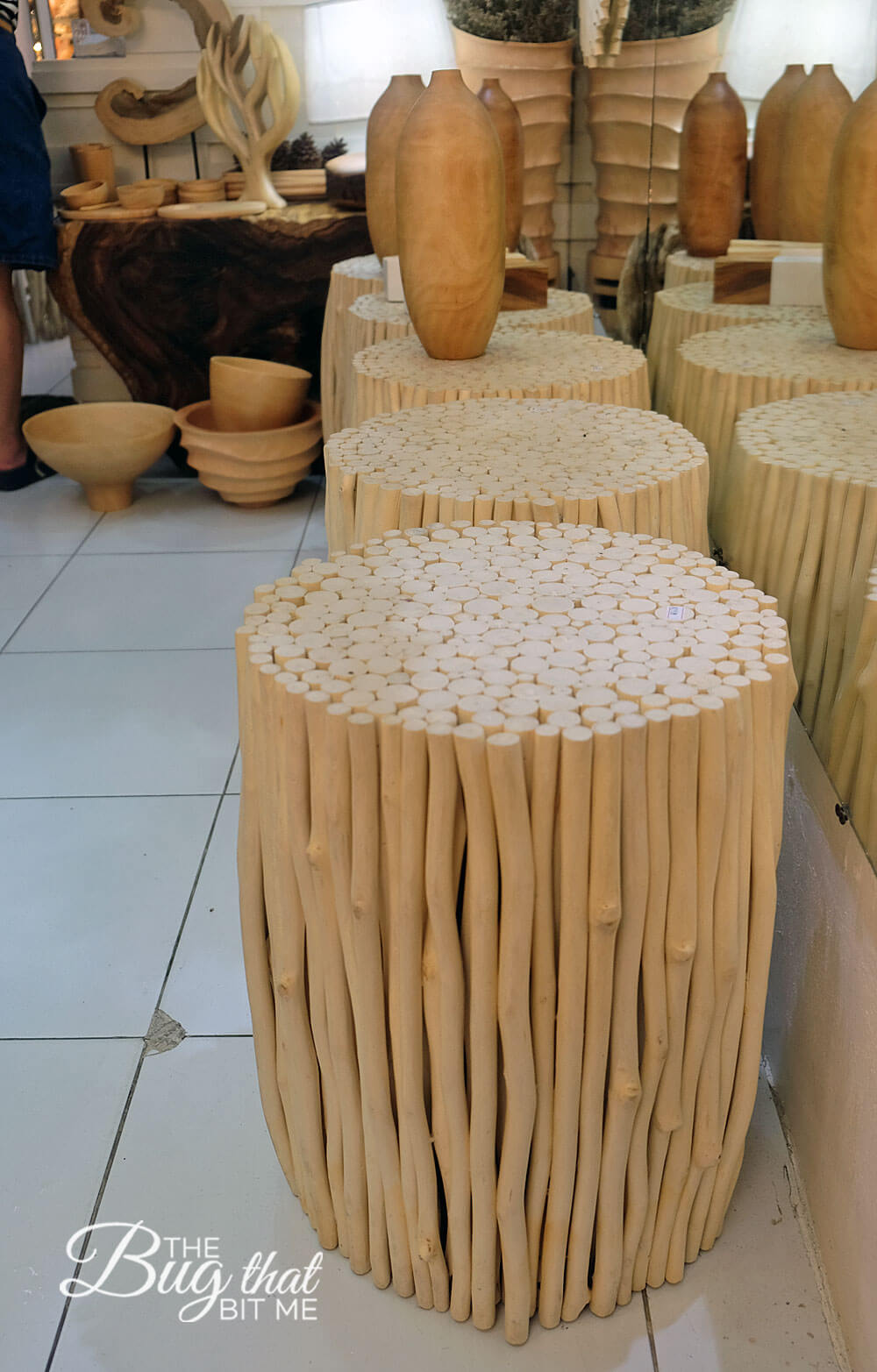 My dreams of treasure hunting dashed, I took it as a blessing. After all, I am travelling with the smallest bag known to man. But surely I could have tucked a pink seashell between my undies and bug spray! I resigned myself to treasure hunt for photographs instead, a pursuit I enjoy more than shopping anyways.
And of course there's the food! That alone makes the market a worthy destination. Early on, I stumbled upon an outdoor food court, of which there are a few. It was a square of shaded tables surrounded by busy food stalls. I ordered a chicken salad and it was outstanding, my favourite food to date in Thailand. The chicken was fried, then chopped up and mixed with lots of fresh basil, cilantro, red onions, and a dressing heavy on fish sauce. It will be one of those dishes I crave 10 years from now. I washed it down with a fresh lime juice, my new favourite drink.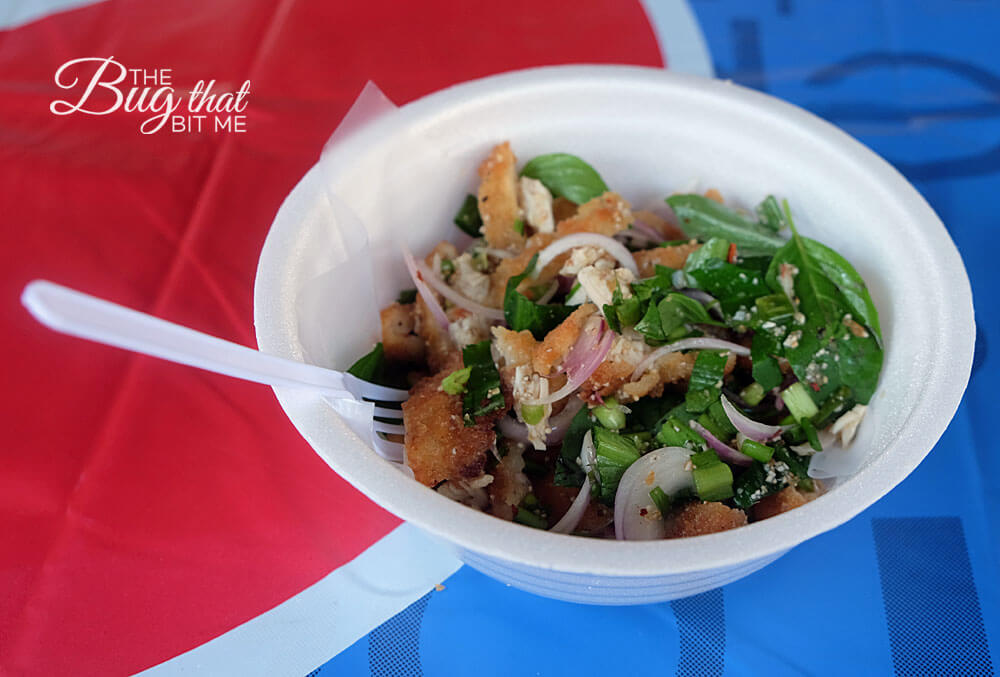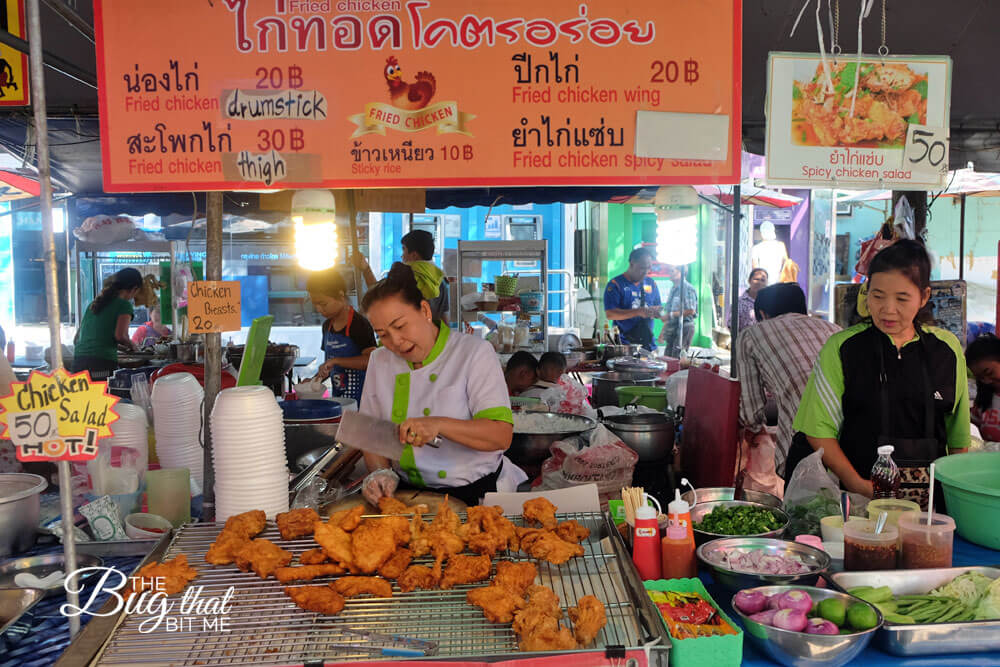 Sustained and ready to explore, I strolled the home goods, handicrafts, clothing, food, accessories, and ceramics for miles of criss-crossed sois. Just when I thought I'd seen it all, I happened upon a real treasure– the fine art section! This was no street-market art, this was gallery-quality artwork displayed in booth after booth. I was in heaven. There was something for everyone, and I was enchanted with the Thai artists' modern styles, their creativity, their sheer talent. I was also grateful for their graciousness, chatting with me, allowing me to photograph not only them, but their canvases. Some were massive, wall-sized affairs, others the size of a novel. The work was affordable by western standards, especially considering the quality. If only I had a way to get it home undamaged.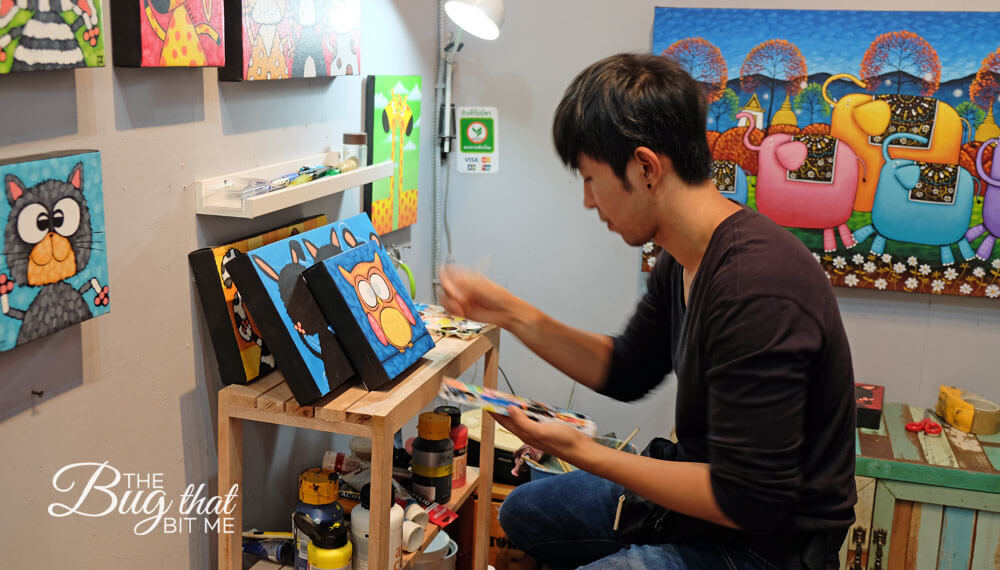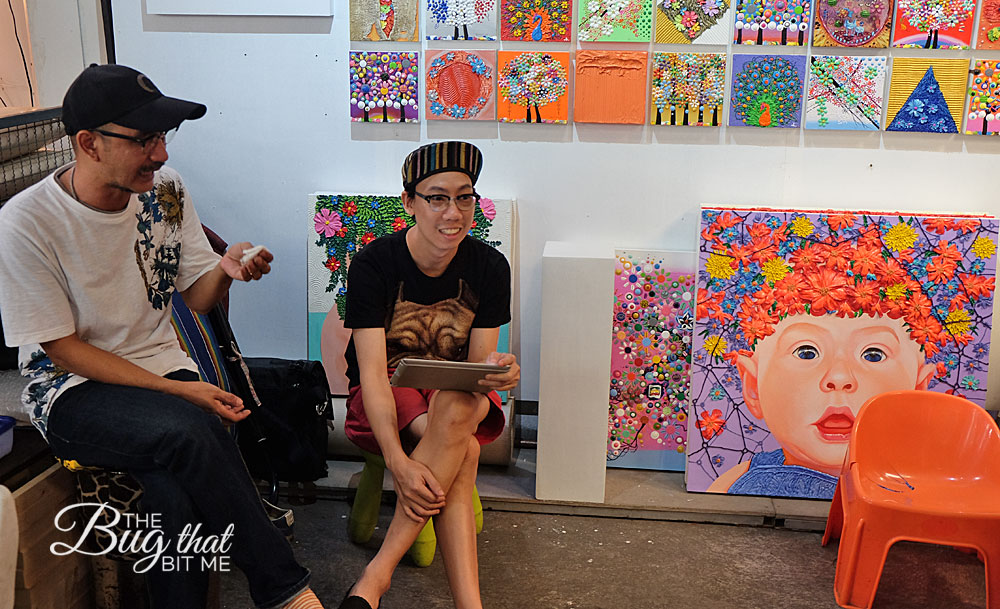 Figuring it couldn't get better than that, I decided my feet had had enough and it was time to go. The crowds were starting to pour in and it was getting hot as the day inched towards noon. It was only then that I realized I didn't leave myself any landmarks. I did recall the number 18, but was that the section or the soi? Dang it! I couldn't believe I'd done this again!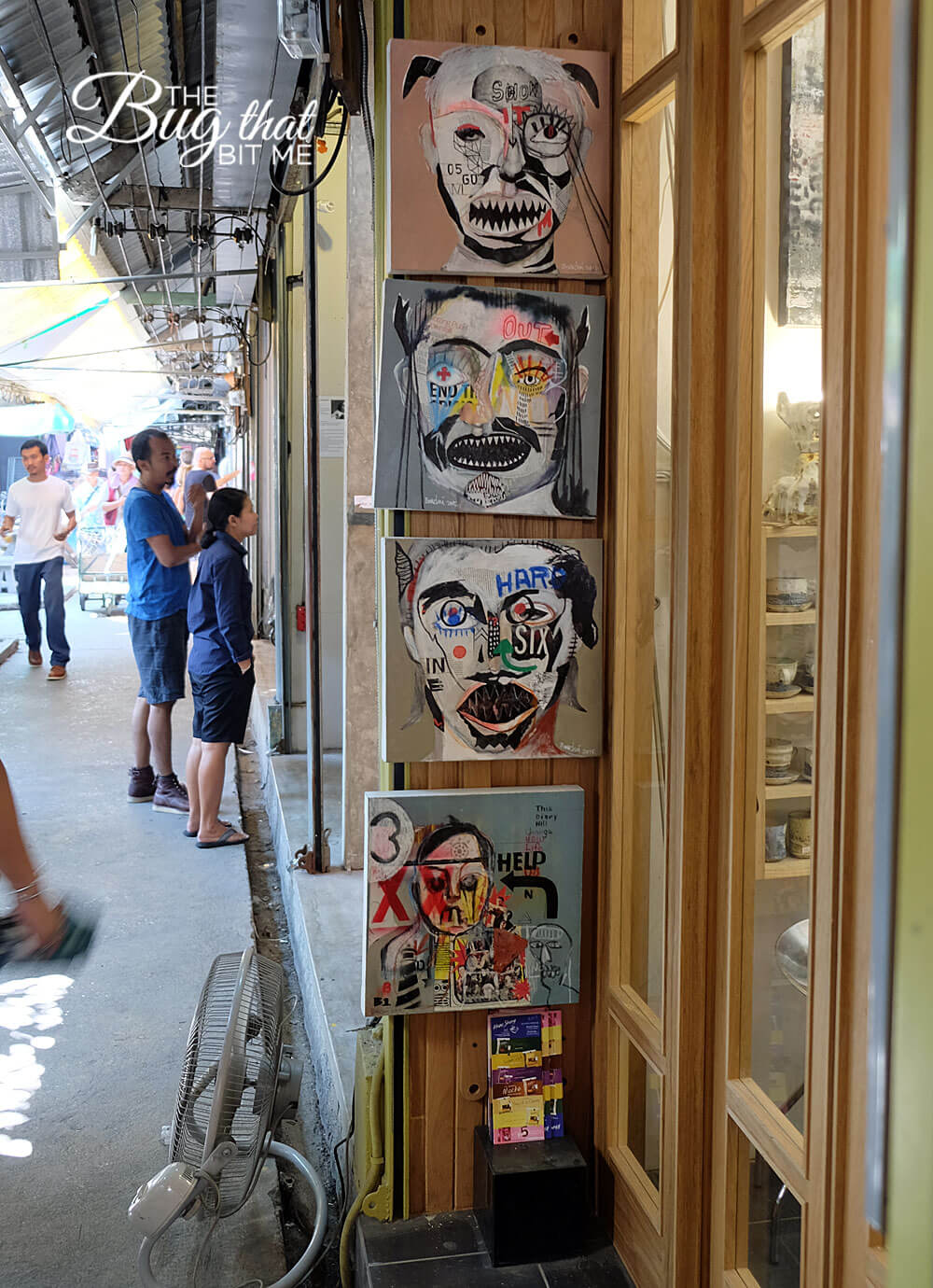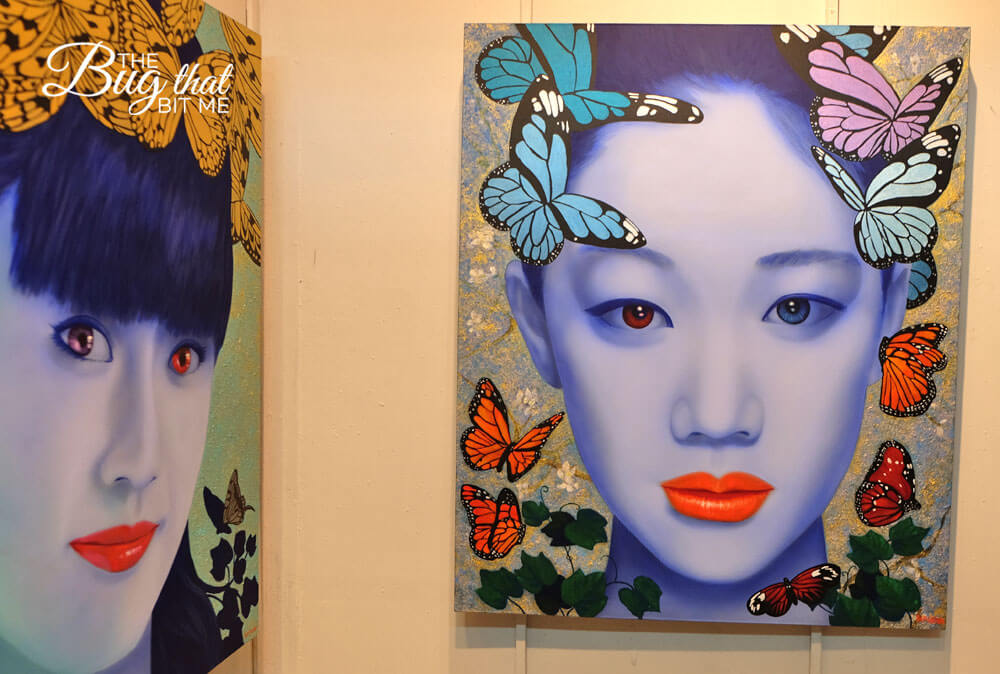 I wandered aimlessly, looking for a map. The one on my phone became inaccessible as my free internet had run out. Once again in Thailand, something pleasant came of my folly and I found the antiques' section. Like the art section, what I saw blew my mind. Massive light fixtures, like Eastern-style stained-glass orbs hanging from the heavens, 10-foot-tall horses and elephants made out of driftwood, wash basins carved from teak, imposing antique-replica tables, door handles in all manner of shapes and sizes. A girl could spend a fortune in this place! And need a crate to get things home.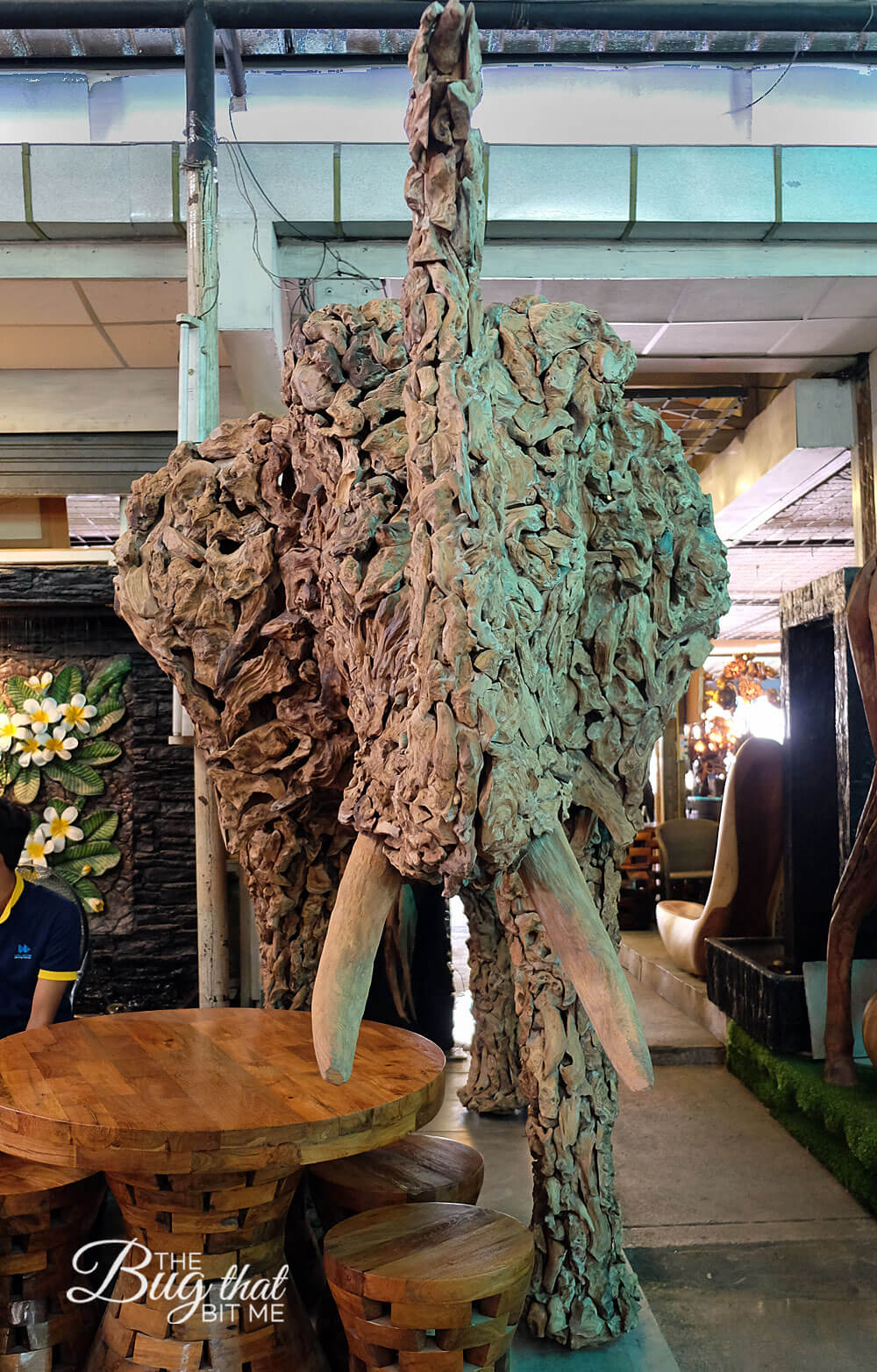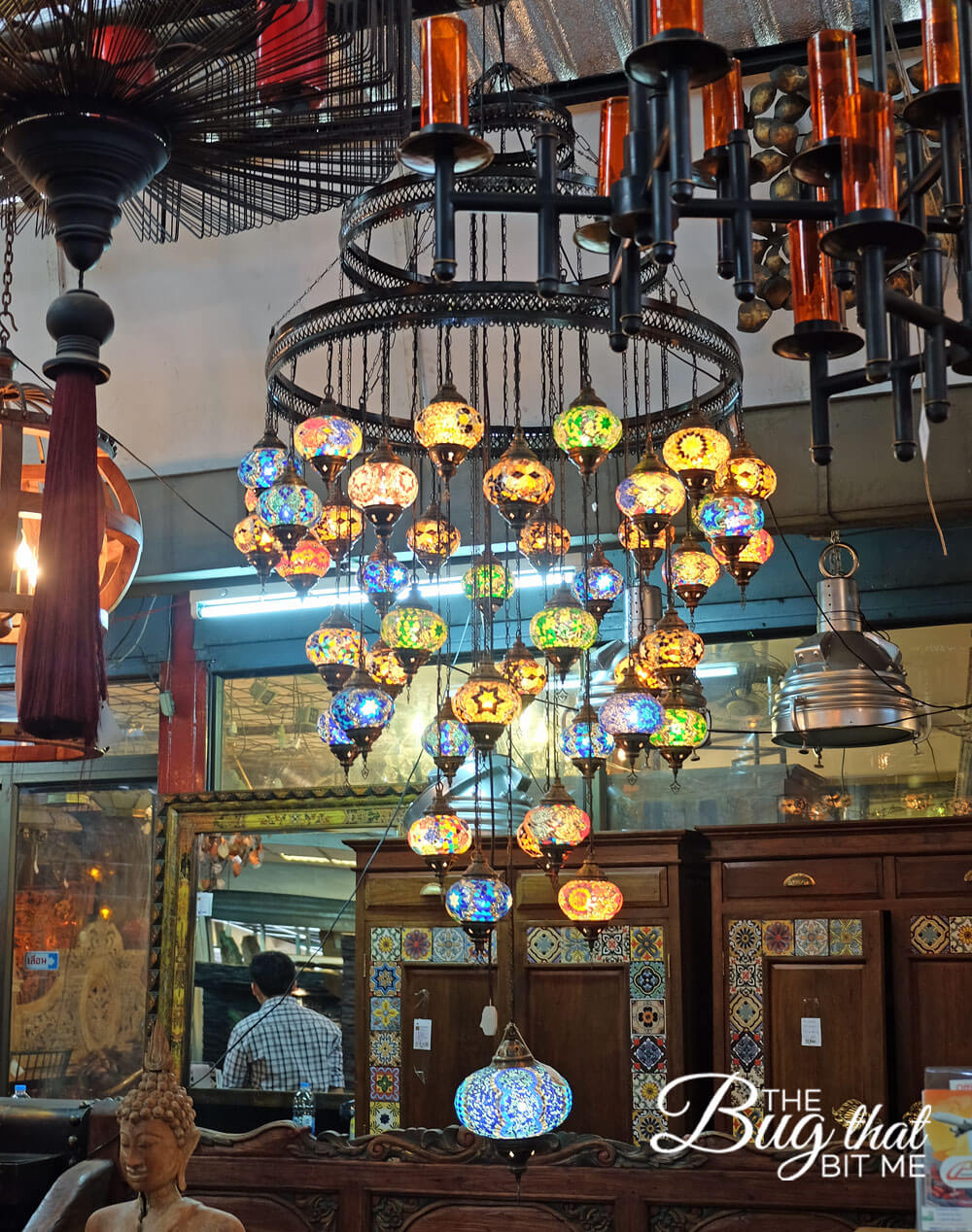 At this point I was utterly pooped. I found myself back in a food court (funny how that happens), and sat down for some mango and sticky rice to sustain my onward journey. I relaxed in the shade, enjoying the breeze that had been blowing through Bangkok since my arrival. Refreshed, I attempted my escape again. This time I happened upon a map. Joy! But no "you are here" pin. Hopes dashed. Just then, a man in uniform stepped up to help me. Gotta love a man in uniform! He pointed to where I was– on the opposite side of the market from where I needed to be. Hopes double-dashed! I turned to go and came fact-to-face with rows of massage stalls. Fate, really, and my feet were burning. I went in for my first Thai foot massage.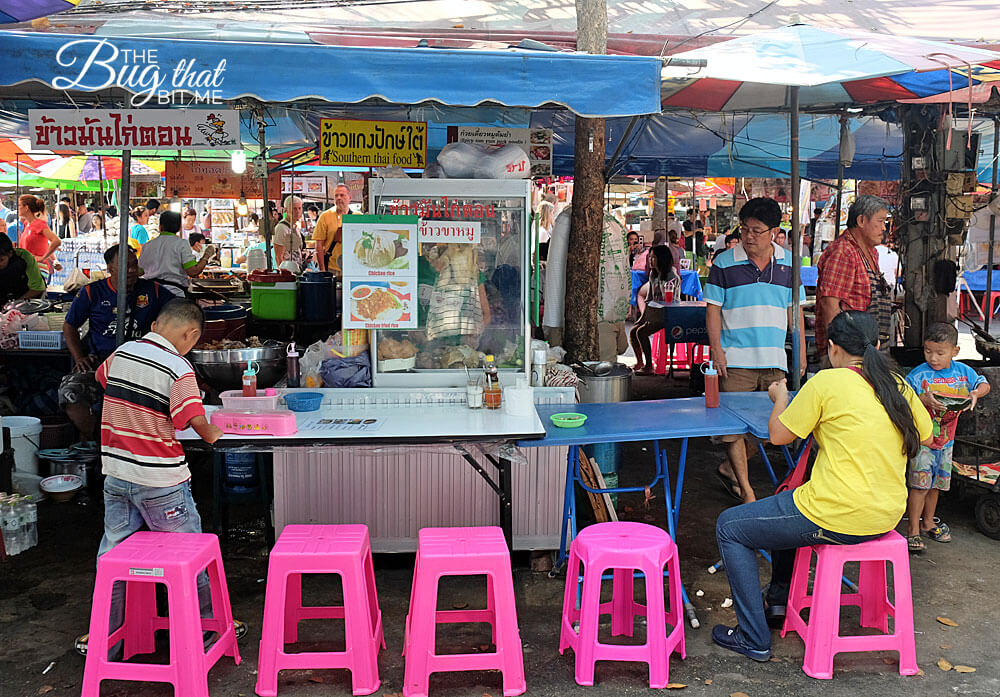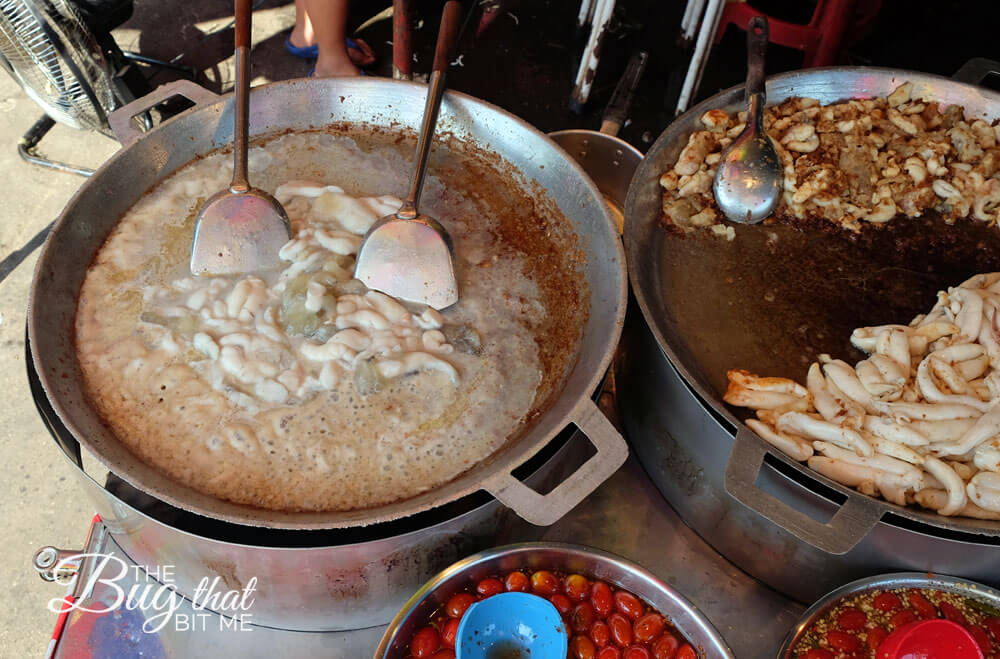 150 baht ($6) for 30 minutes was a bargain. I was a bit embarrassed to hand my hot sweaty feet over to anyone to touch, but the friendly masseuses didn't seem to mind. I laid back on the bed and handed my feet over to a very straight-faced Thai woman. She seemed much brusquer than the others and I prayed she wouldn't be rough with me. After all, I was a virgin.
She took my angry red feet in her hands and washed them with a cool cloth. I felt better already. My feet burned a little less and I wasn't as self-conscious of their filth. It was only later that I realized they used the same cloth on all their clients. I was sufficiently grossed out, but the deed was done.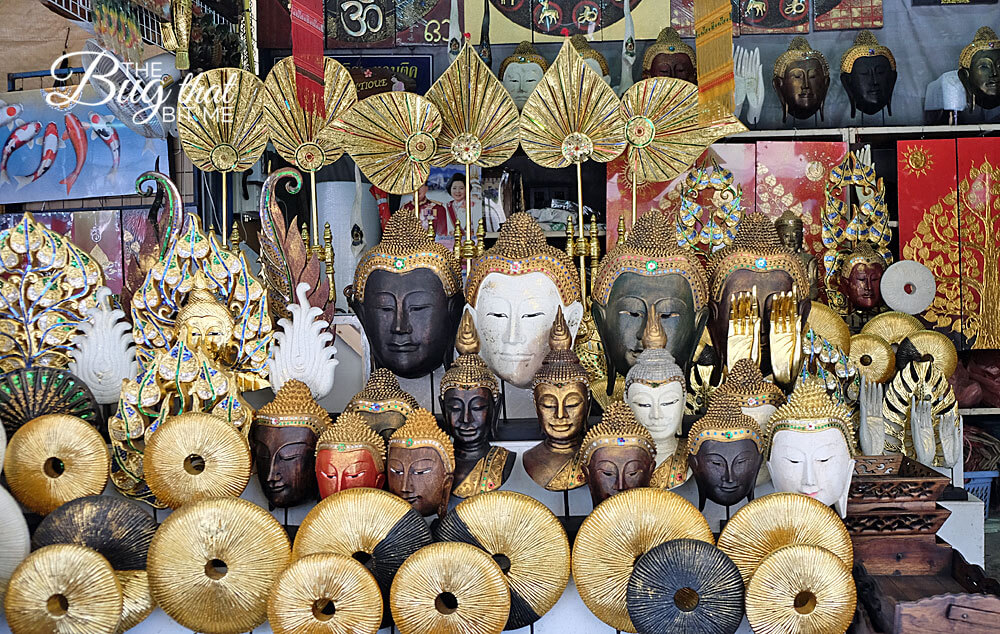 She put a lotion on them and went to work, left foot first, then right. It was more of a massage up to my mid-thighs, which at times was heavenly, other times downright tortuous. She bent my ankles side-to-side, unnaturally so. She put tiger balm on certain places, rubbing it in with vigor.
As I watched the women at work, I enjoyed seeing the banter between them. It seemed like a gossip session amongst girlfriends. Not that I could make out a word, of course, but there was comradery and laughter. Nearing the end of the 30 minutes, my stern masseuse punched my feet repeatedly and pronounced me finished. I paid her and included a 40 baht tip. I have no idea if that was sufficient or necessary and her straight face gave nothing away.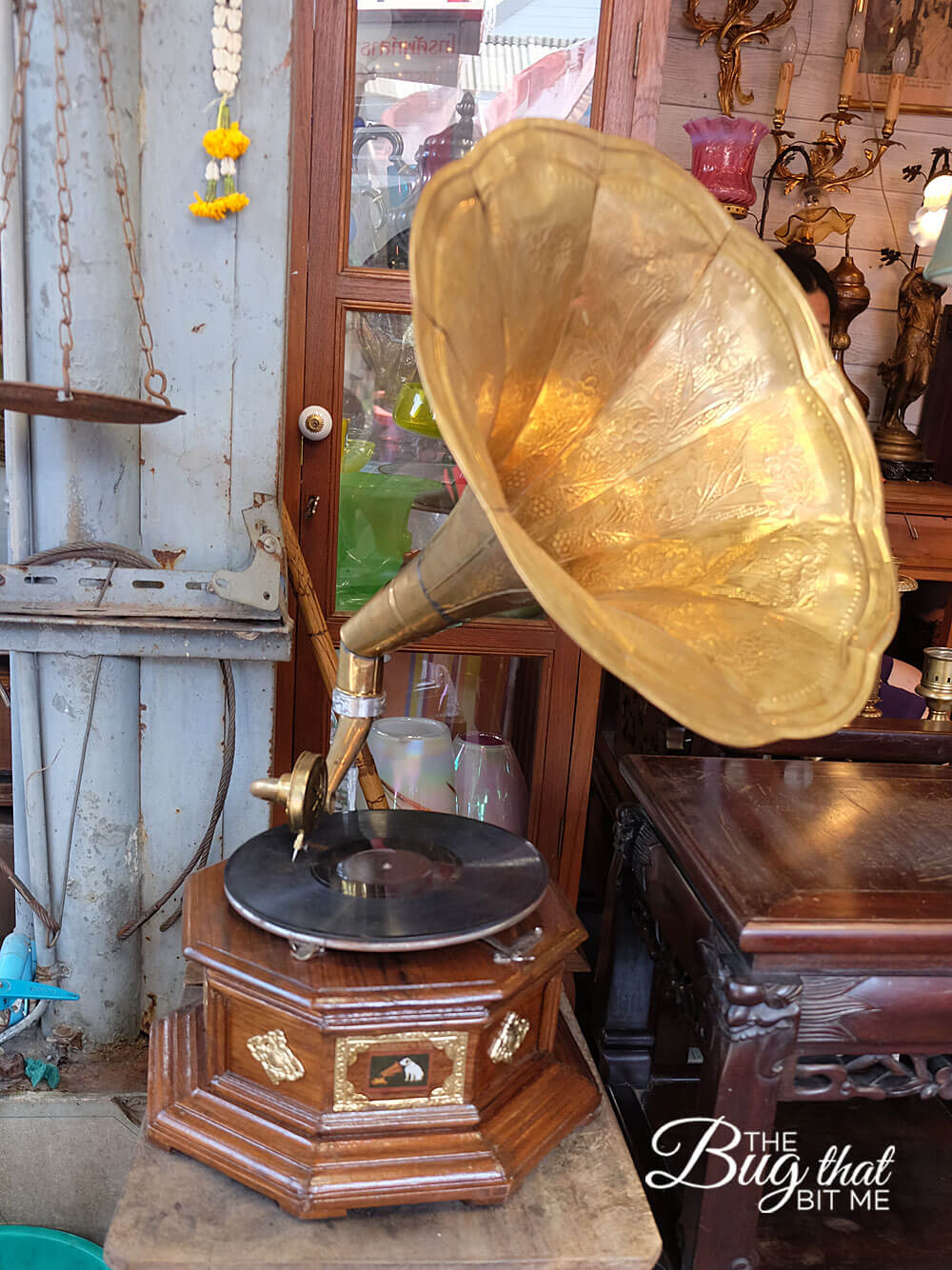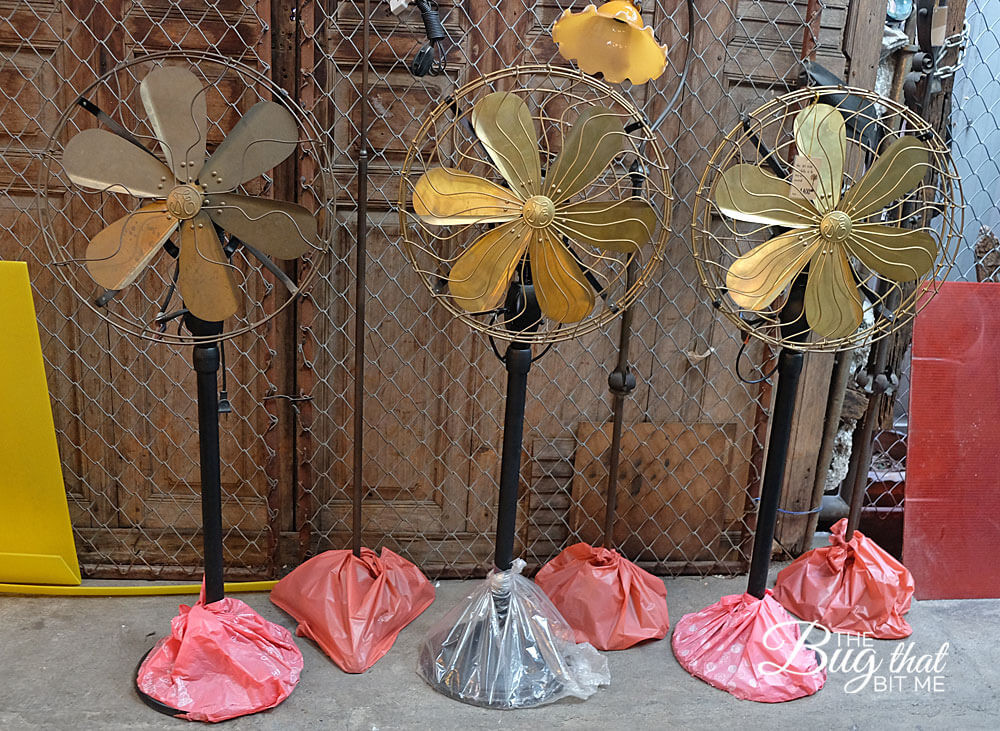 I left the massage stall with slightly cooler feet and a bit of renewed energy, but I just wanted out. The crowds were at full capacity and it was no longer possible to stroll casually without navigating hordes of shoppers. So I started asking anyone and everyone how to find my way out. The stall owners were kind and helpful, pointing me in the right direction with a smile. I eventually found an exit to the street, but was far from the subway.
Sadly, I don't have useful exit information for anyone interested. Return trips are clearly not my forte. My best tip is to pay attention to where you are when you enter and give yourself time to find your way out again.
If you do make purchases in the market that are too numerous or too big to travel with, there are a few courier companies that will package up your treasures and ship them to your home country. I didn't look into them, as I'd done a bit of research in advance and had concluded that the prices to ship were quite high– and that was for a small box, not something like furnishings– but if you find something you can't live without, there is a convenient way to get it home, if you've got the cash.
What: Chatuchak Market covers 35 acres and has over 8,000 stalls
Hours: open Saturday and Sunday, 9:00-6:00, and Friday night from 6:00 to midnight
Where: 587/10 Kamphaeng Phet 2 Rd, Chatuchak, Bangkok
Getting there: by metro: Chatuchak Park exit 1, Kamphaeng Phet exits 1 & 2, or subway: Mo Chit exit 1