I arrived on the gorgeous island of Koh Lanta with high expectations after the amazing Ao Nang! It took a thankfully uneventful, 400 Baht, two-hour ferry ride from the pier in Krabi town to get there. I wasn't disappointed. The idyllic little island was the perfect place to chill, catch up on work, and wander until my heart's content. After two days of doing this, however, I needed a bit of action. I decided to try the 4-Islands Tour, as it combined a bit of snorkelling with some beautiful locations.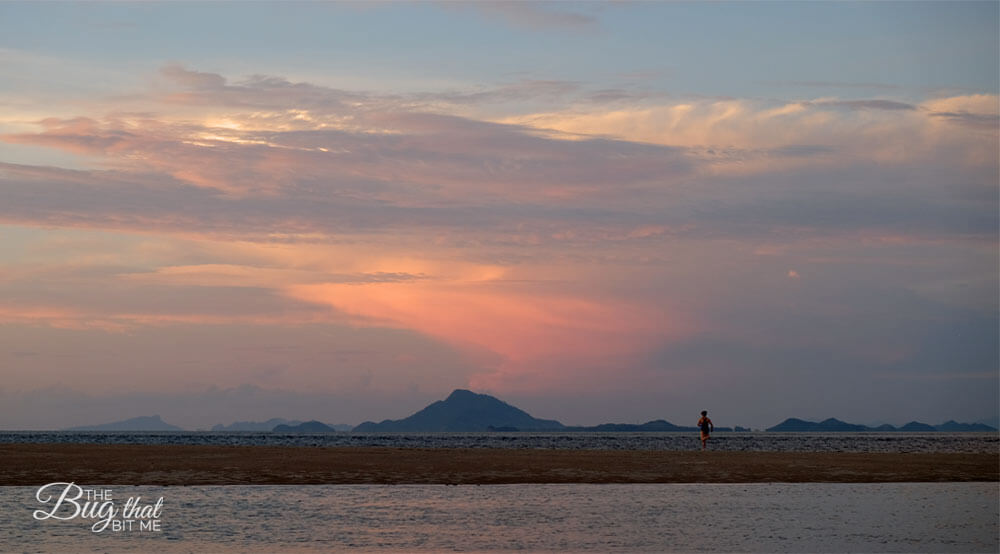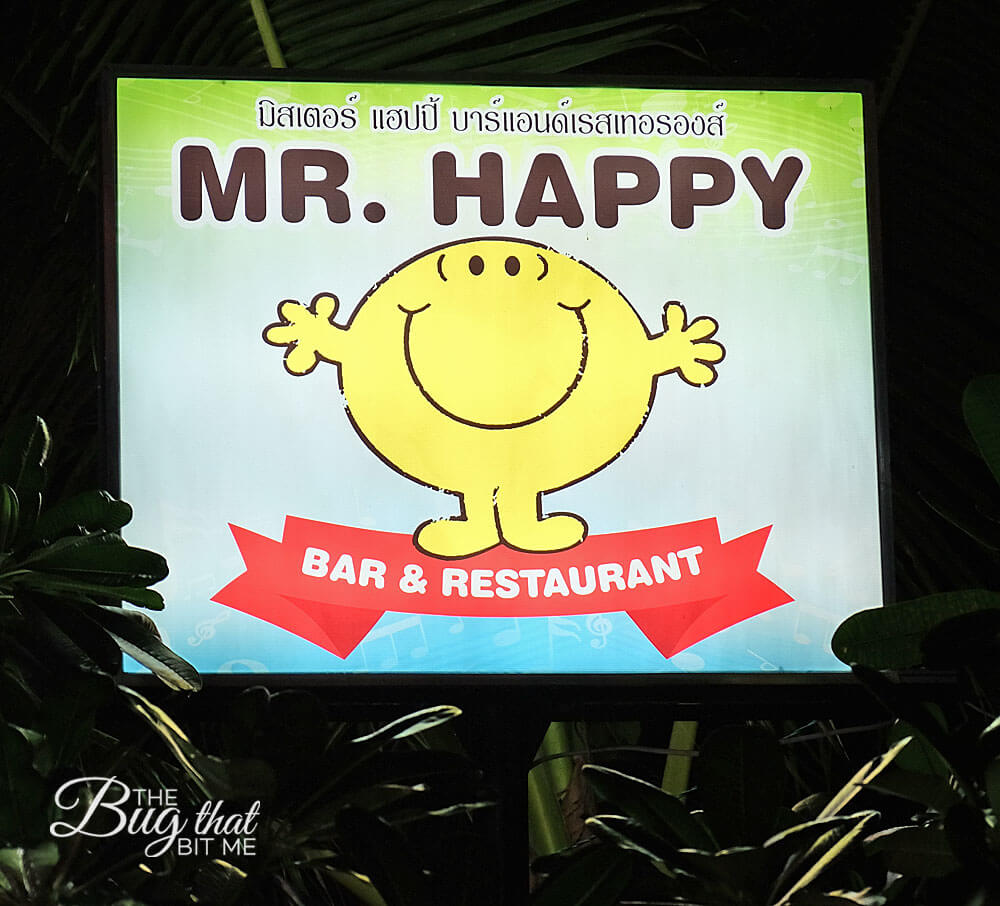 I booked my tour the day before with a local travel agent. They aren't hard to find, they line the main streets. Most hotels can also book this for you, often at a discount, so check first. I signed on for the speed boat tour. It was more expensive at 1,200 Baht, but from what I'd heard, more comfortable and better able to get you to where you want to go. Not being one who loves being on the open sea, the speedboat seemed the safer choice as well. It's worth noting that this tour is much more expensive during high season, up to 1,700 Baht. If you're there during the slow time, definitely put on your biggest smile and try to work the price down!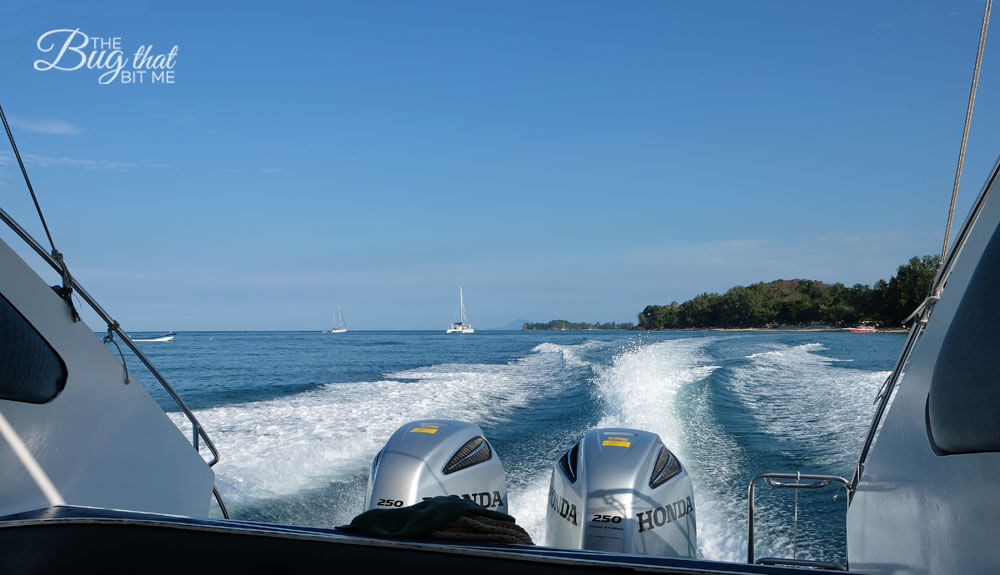 That morning, I was the first onboard at the Koh Lanta pier. After a balancing act, hopping over two other speedboats with a bag and no shoes on, I climbed aboard our boat and took a seat up front. We picked up several other adventurers along the Koh Lanta coastline until the boat was quite full, almost uncomfortably so. I had moved inside under the shade and we were forced to get very cozy.
Although the tour travels to the four islands of Koh Ngai, Koh Cheuk, Kho Kradan and Koh Mook (other tour companies might choose different islands), the order in which they are visited changes according to the tides and the weather. For our trip, we started with the two islands we would be snorkelling at, Koh Ngai, Koh Cheuk. This was to be followed by lunch at Koh Kradan, and finally, Koh Mook, the site of the beautiful Emerald Cave.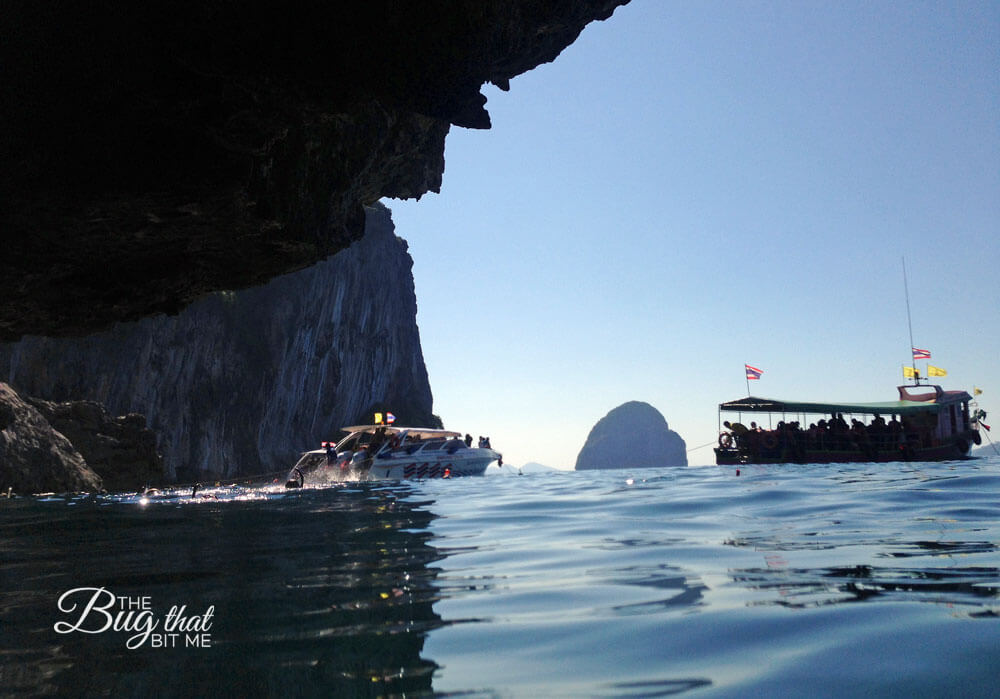 We set off at full speed for Koh Ngai. The sun was beating down, even though it was only mid-morning, as we anchored at an imposing limestone cliff face. Only a couple smaller boats were there, so I was hopeful for a day not spoiled by hundreds of tourists. We donned our snorkelling gear and jumped in the water. As I landed in the water, my borrowed mask immediately slipped off my head and started to sink. I'm not a good diver, but luckily, a fellow snorkeler came to my rescue and dove down, rescuing my mask. I was grateful, as I was told they charge an exorbitant amount to replace them. Securing my mask firmly on my head, I started off.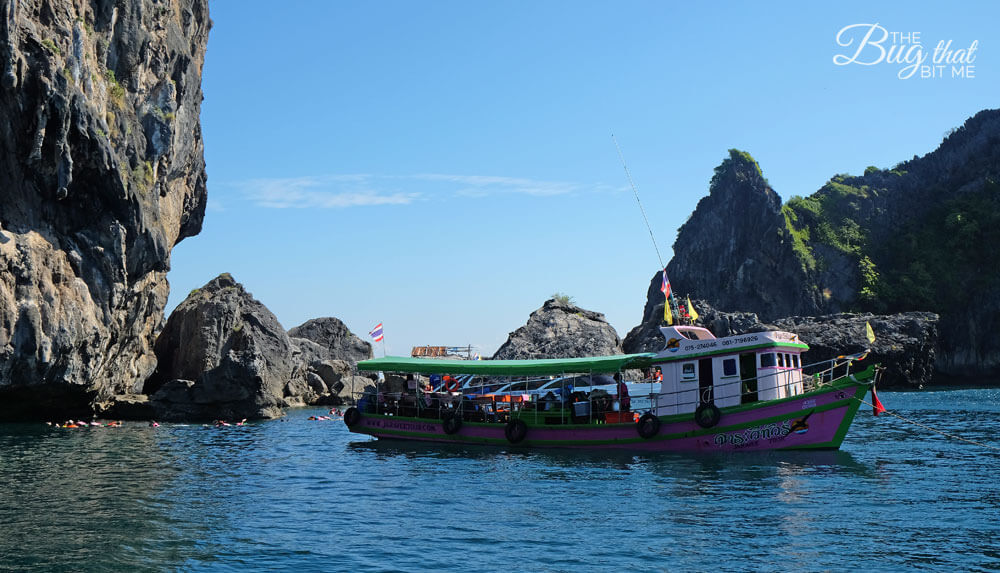 While the locale was beautiful and the water a comfortable temperature, the visibility was not great, and with the sun shining directly overhead, it was hard to see. I did spot a few pretty yellow fish and some black and white striped fish, but didn't see anything too remarkable. I swam around for about 40 mins, hoping to find something spectacular, but it was a little disappointing.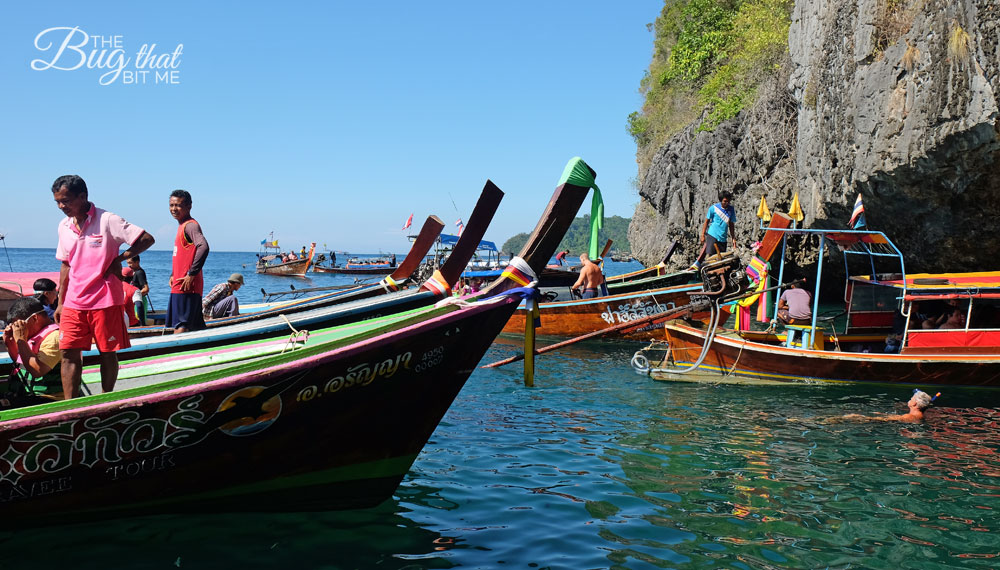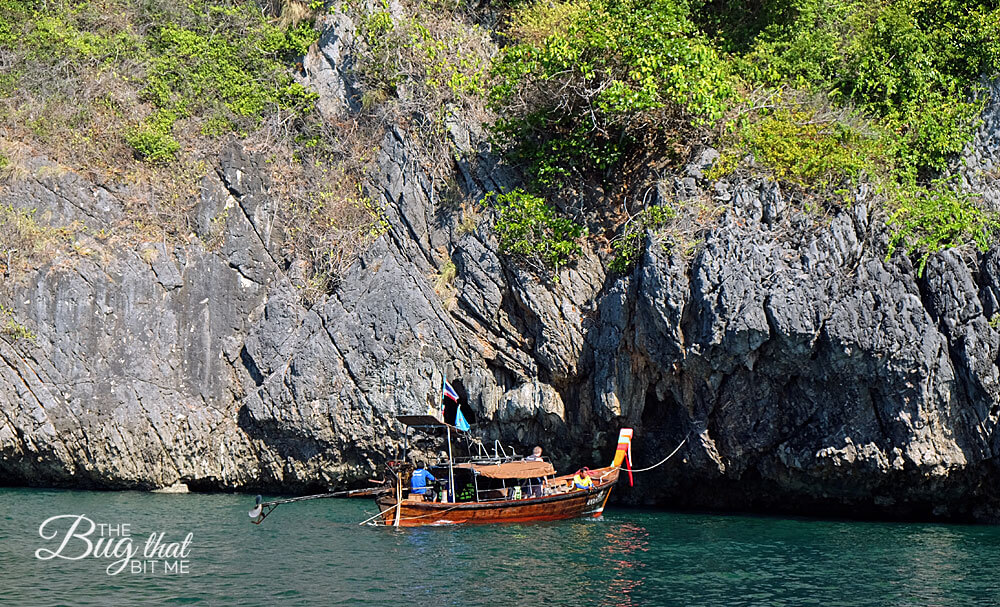 We climbed onboard and promptly took off to Koh Cheuk. There were more boats at this stop, and unfortunately, the snorkelling wasn't any better. Visibility was not good, and there was no living coral to be seen. Again, saw a few small fish, but nothing terribly exciting.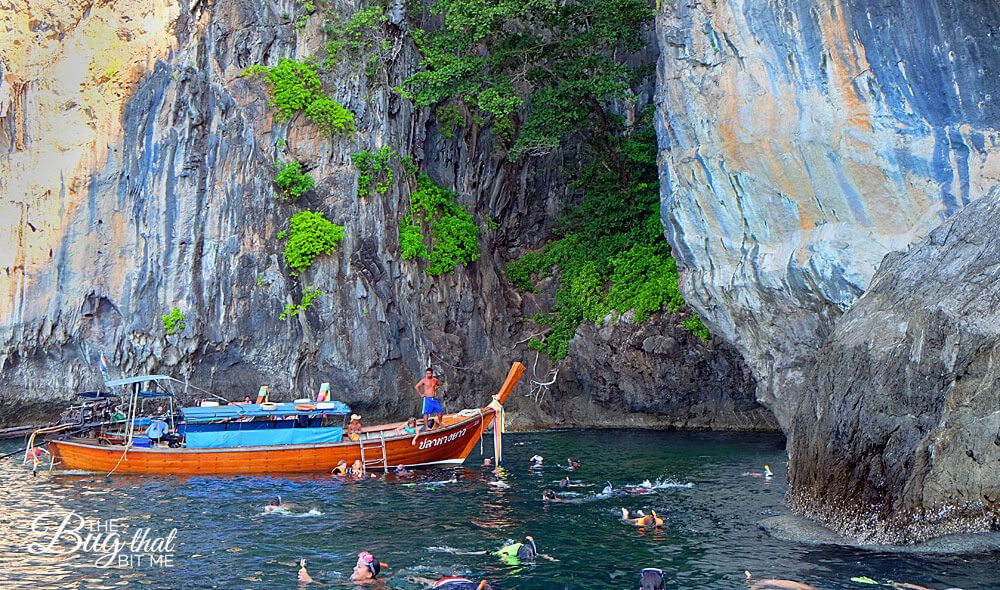 After our two stops, it was time for lunch. We headed to Koh Kradan and joined several other parties already on the long stretch of gorgeous beach. The company put on a great spread, with chicken, curry, veggies and rice, with a lot of fruit, water and pop. There was plenty of food, and most people went back for seconds. We stayed on the beach for quite a while, enjoying the gorgeous weather and surroundings. We were told we could swim out and snorkel if interested, but I opted for a stroll along the beach. One of our tour guides felt sorry for me travelling alone, and joined me. Some people don't understand solo travel, and I find in Thailand I get questioned more than most places about it. Still, I enjoyed our conversation and it was nice to have some company, as most people on our boat were in family groups and not overly chatty. I collected shells, took some photos and relaxed. It was by far my favourite stop of the trip.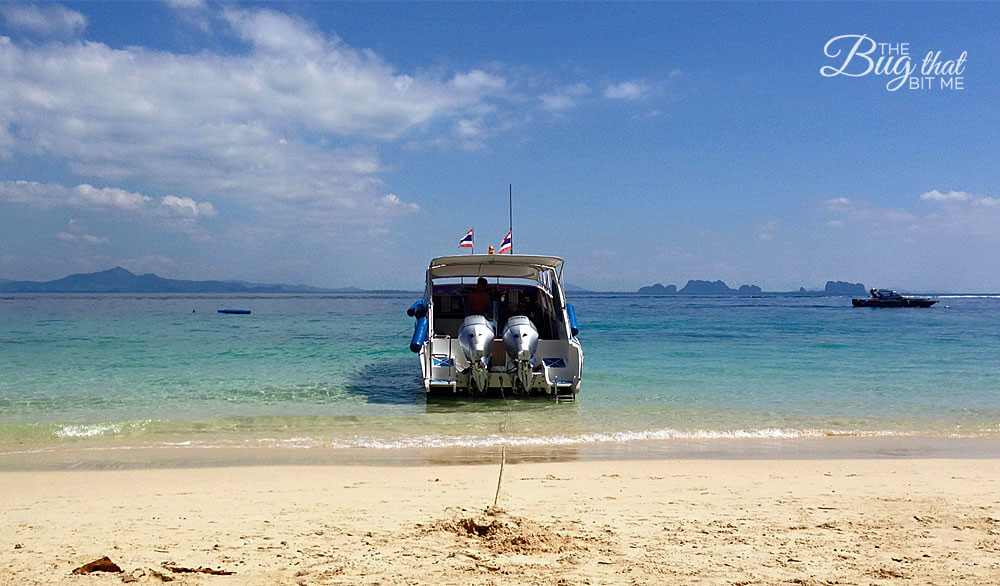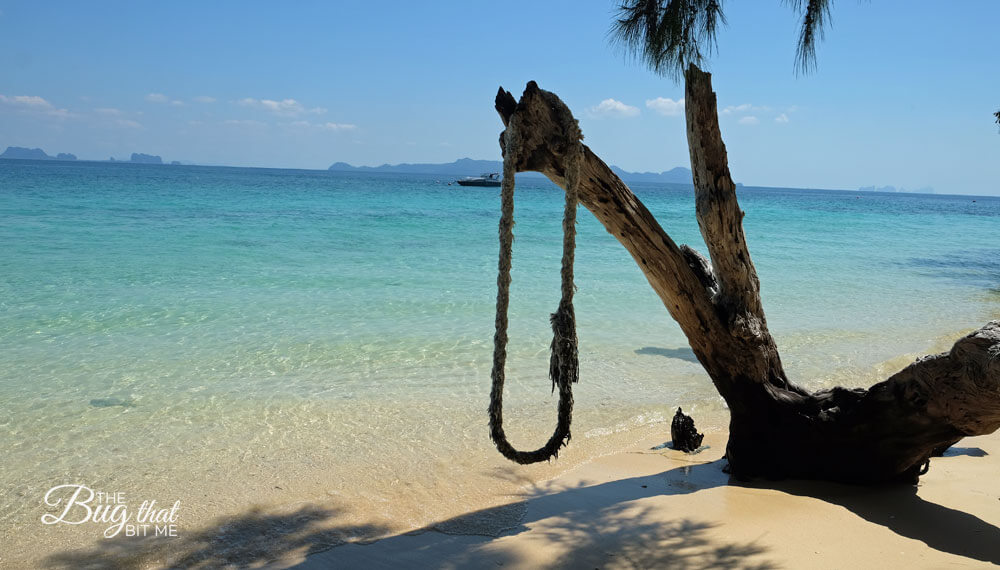 After an hour or so of relaxing, we were off to the jewel of the day, Marakot or the Emerald Cave on Koh Mook. I had seen a lot of shots of this place, so was quite excited to visit. My heart sank as we arrived and there were a ton of other boats anchored at the cliff face. Scores of life-vested tourists bobbed in the water, all making their way to the cave entrance. We swam in a pack through the entrance into the pitch-black cave. It would have been an amazing, albeit somewhat frightening, experience, had there not been so many of us. The 80-metre or so swim wasn't too difficult, but with all those people, it was a little claustrophobic.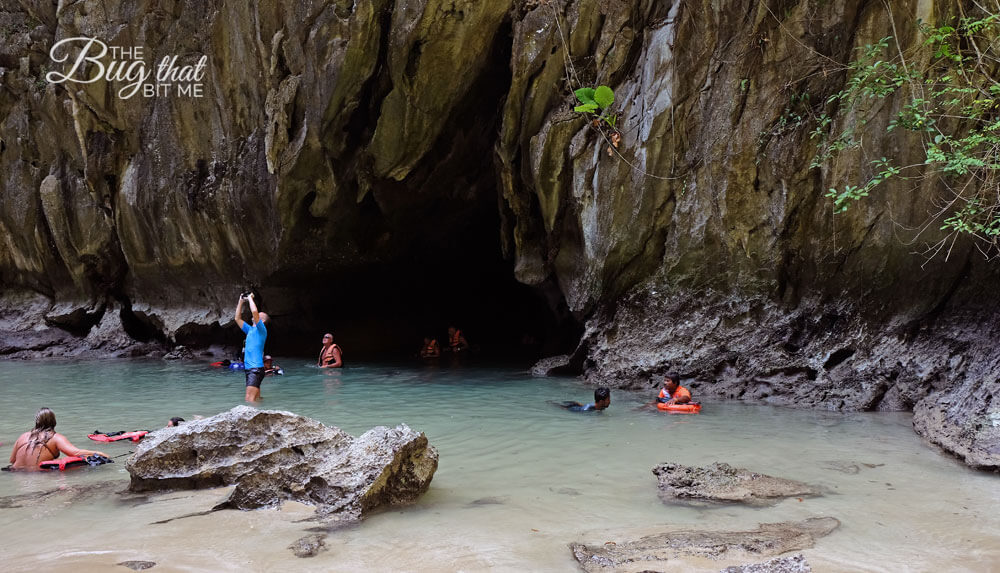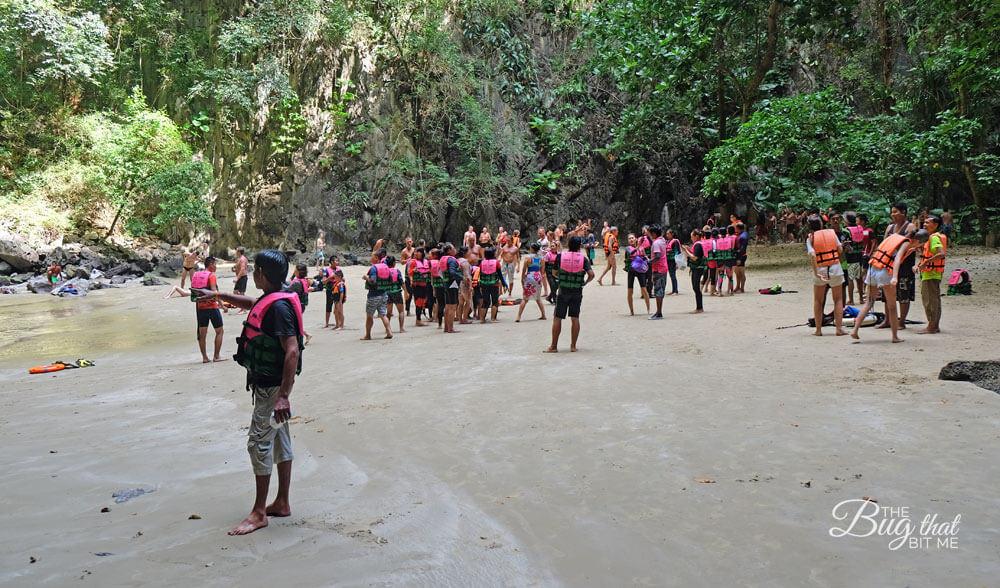 As we passed through the middle of the cave, we started to see the light at the end of the tunnel. We emerged onto the beach to a sea of pink life-vests. It is a very small beach and it was completely marred by no less than 100 sightseers. The best view of the day was looking up through the ring of limestone cliffs to spy the beautiful blue sky.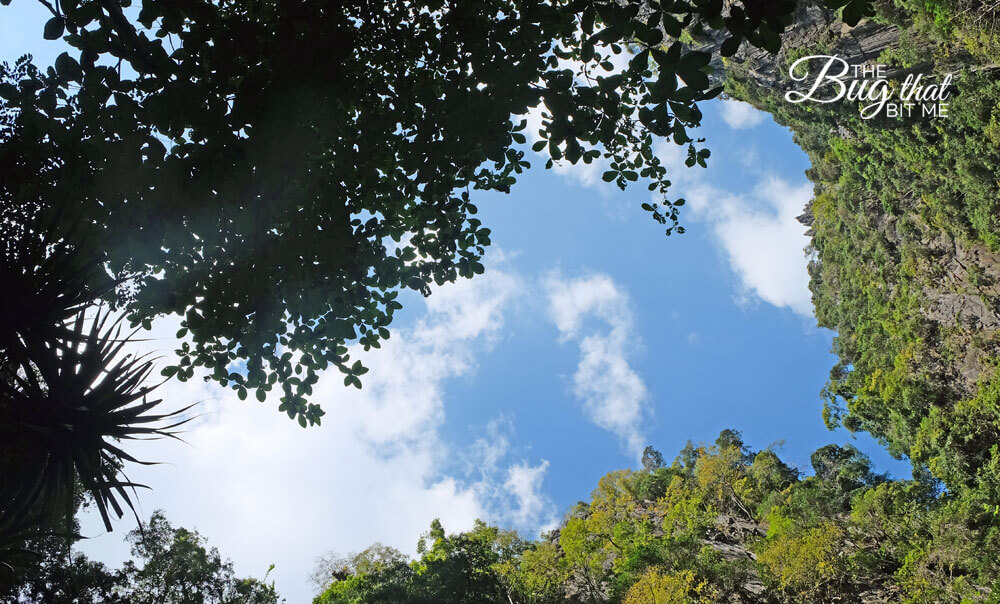 The boat guide had thrown all our cameras in a dry sack, so I attempted to get some photos to record what most certainly would be a stunning bit of the tropics had I been there with about 100 less people! It proved an impossible task to photograph– to my liking– the emerald water lapping against the beach as it emerged from the dark cave. Vegetation covered the majority of the land and the cliff walls were lush and green from it. The blue sky above added to the assault of colours. It could have been stunning. If not for all that pink.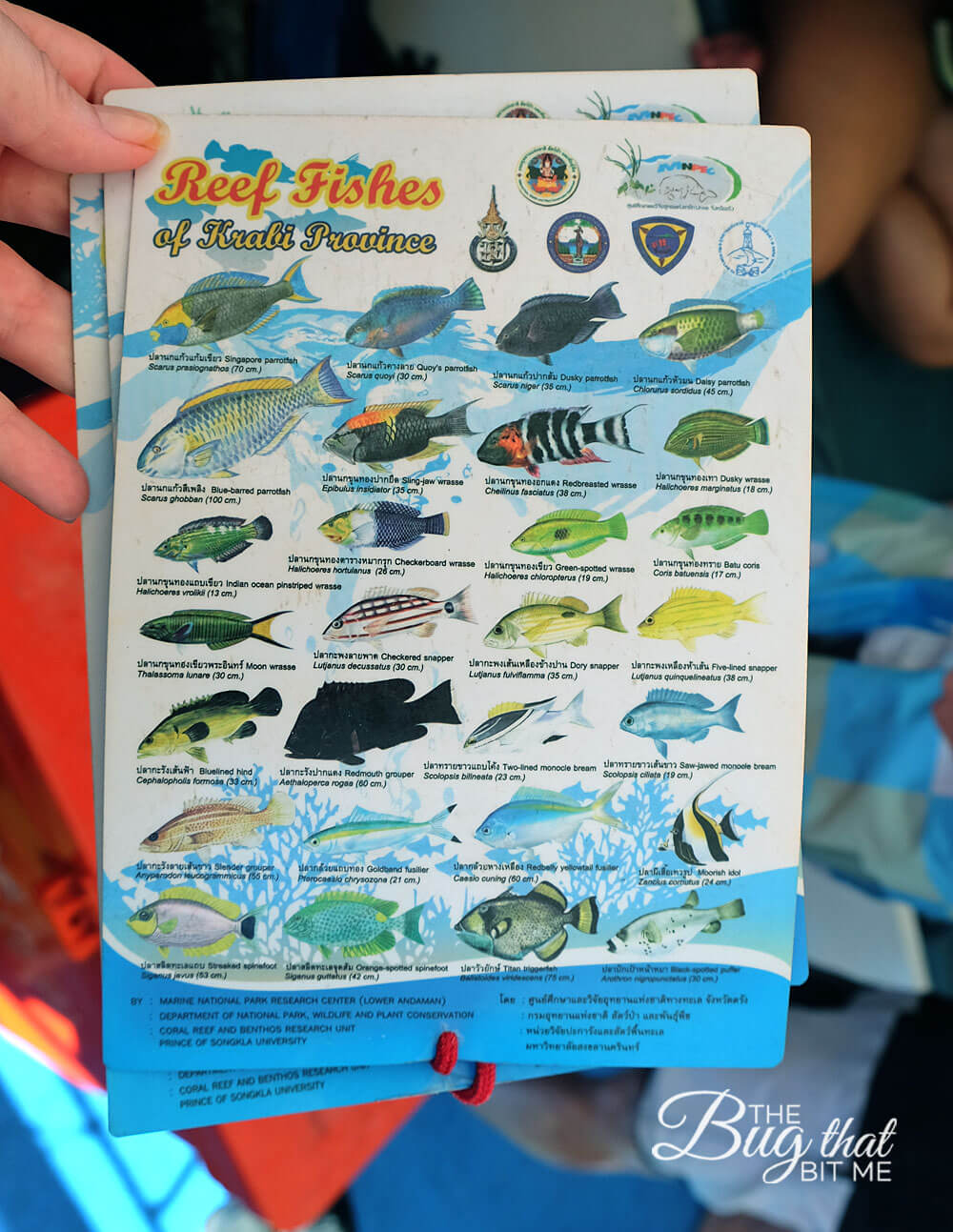 In the past, this hidden gem had been used by pirates to store their booty. There is a carved sign near the back of the beach that shares this information and gives a small amount of background. My recommendation would be to hire a private boat and visit the Emerald Cave early in the day, before the tour boats descend. Or some rent kayaks and go on their own, but I do think you'd be hard pressed to find the cave, as it's quite nondescript from the outside. Otherwise, I don't think it's worth the trip. It's just too crowded to enjoy.
We stayed at Koh Mook's Maracot Cave for just enough time to gain energy for the swim back, then we packed up our camera gear and all head back through the darkness to our boat. If you have a fear of water or darkness, it's worth noting that some of the tour companies offer you a rope to follow as you move through the cave. The company I took did not. We were on our own, although the guide did the best he could to keep his flashlight illuminating the way to let us know where he was. If you're feeling trepidatious, perhaps choose a company that gives you a bit more guidance through the water.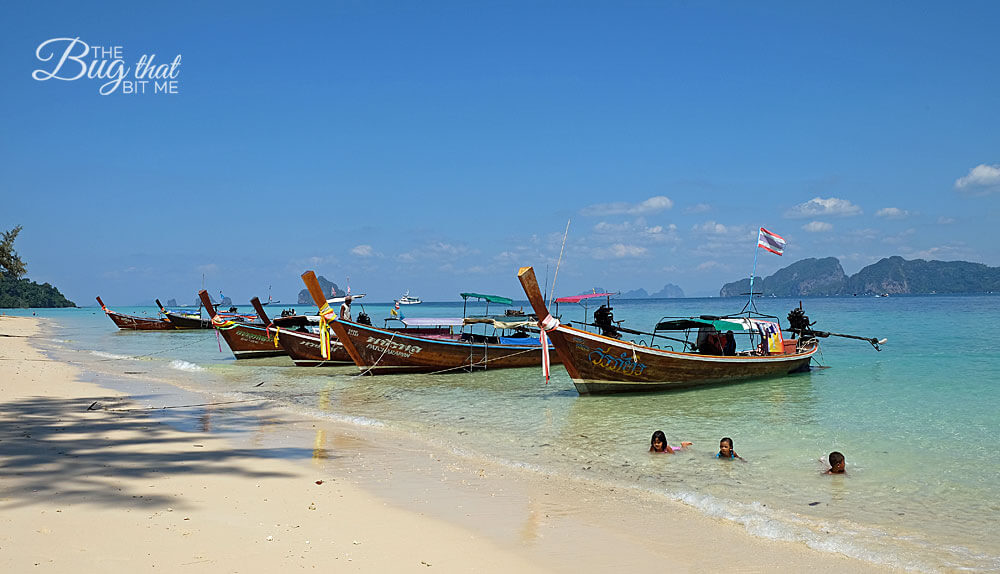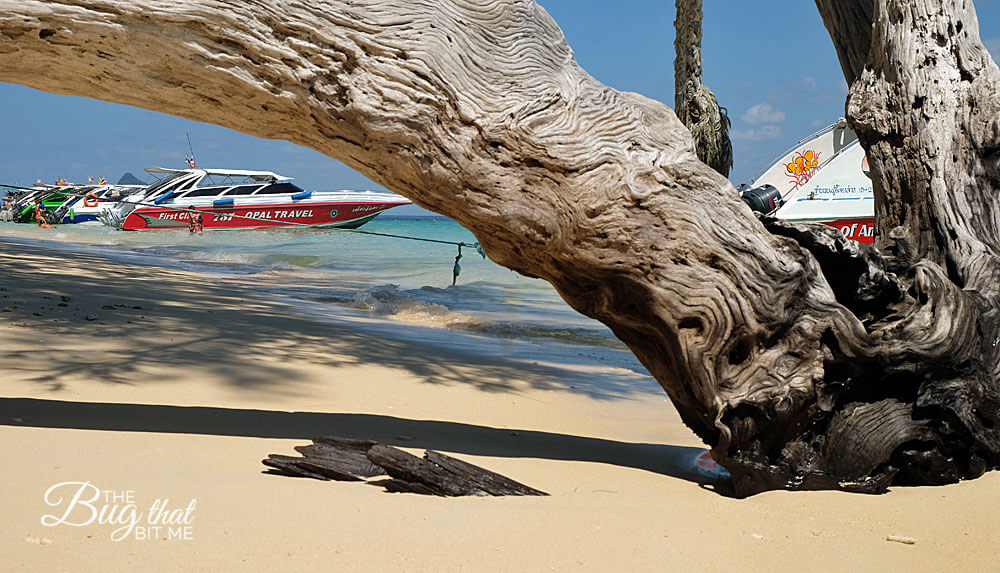 On the way back to Koh Lanta, we anchored in the water near Koh Maa for one last swim and snorkel. I stayed on the boat, having had enough of the water for the day. After some crazy dives and cannonballs off the side of the boat, we prepared for the ride back. Sun-weary, we all hydrated ourselves with the provided water and chilled in the cabin of the boat. It was an enjoyable day, but I don't think I would visit the islands that way again. I think next time I would hire a longtail boat and head out as early in the morning as possible. While the islands are gorgeous and definitely worth a visit, they lose some of their splendor amongst dozens of selfie sticks and pink lifejackets.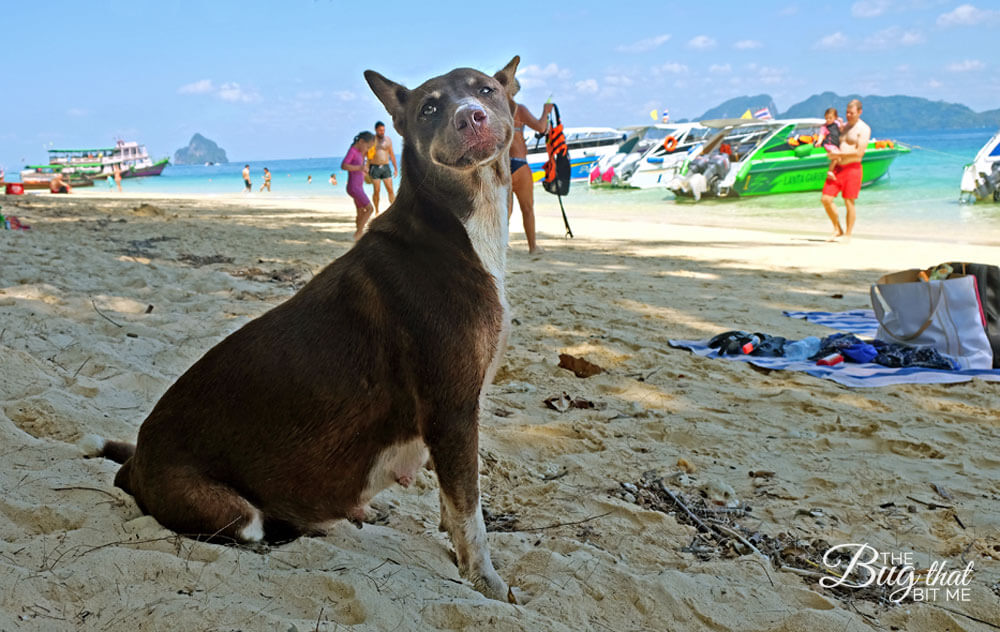 What: Koh Lanta 4-Islands Dive
Where: Leave from anywhere in Koh Lanta, book at your hotel or at one of the many travel agents
Cost: I paid 1,200 Baht for a speedboat with a bit of bargaining, but in high season the cost can be 1,700 Baht
When: Roughly 8:00 am to 3:30 pm, depends on where you're staying
Includes: Transfer from hotel, lunch and as much water as you want, fins and mask, life jacket, national park fee
Like this post? Pin it for later!