It is said that Cleopatra first introduced cats to Italy as a gift for her lover, Julius Caesar. I've read both that Caesar was allergic to cats and also that he was an ailurophobe– had a fear of cats– so it's a little ironic that the place of his murder is now a modern-day cat sanctuary.
"Artists like cats; soldiers like dogs."
–Desmond Morris
Torre Argentina Cat Sanctuary in Rome's city centre is housed in the ruins of the old senate. These are the oldest temples in Rome, dating back to 400-300 BC. The excavated site is roughly 15 feet below street level, showing how the city has risen over the millennia, as civilization builds on top of civilization. The area is fenced off for safety, but you get a good view of it from street level.
The site contains four Roman temples and the Theatre of Pompey, outside of which Julius Caesar was stabbed in 44 BC, but the real draw today is the cat population.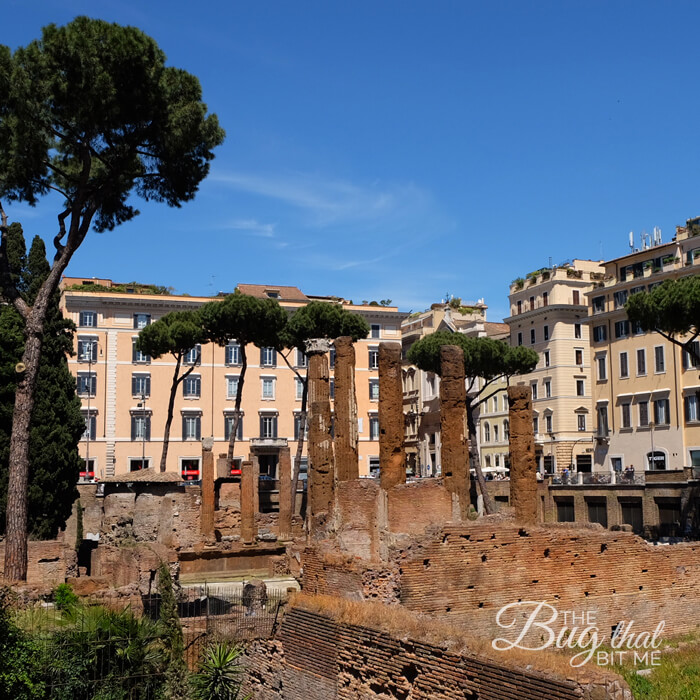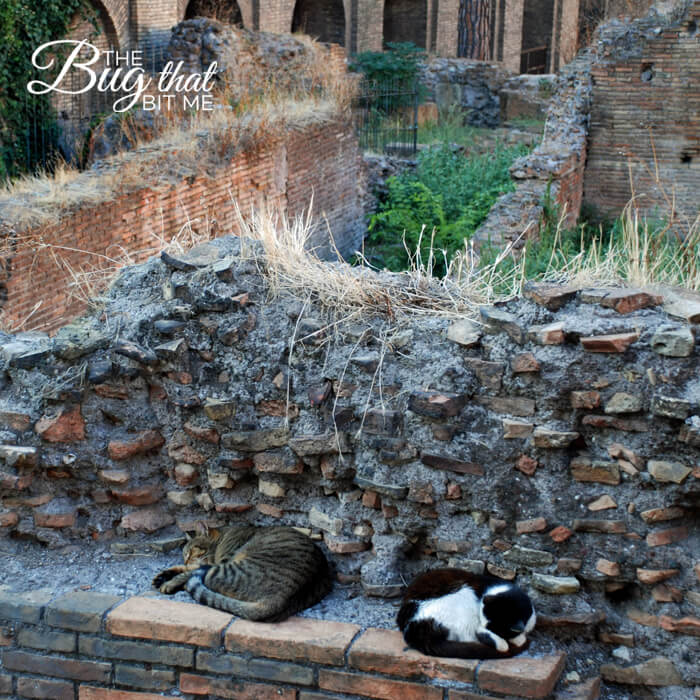 The sanctuary was officially started in 1993, but since the site's excavation in 1929, cats have taken up residence in the ruins, continuously cared for by a succession of gattare, or cat ladies. It is a no-kill shelter that feeds, provides medical attention for, and spays/neuters what is the oldest cat colony in Rome, currently consisting of 120 cats of all ages, physical states and domestication. The cats are also vaccinated, de-wormed and tested for FIV and FeLV. Volunteers care for the cats seven days a week.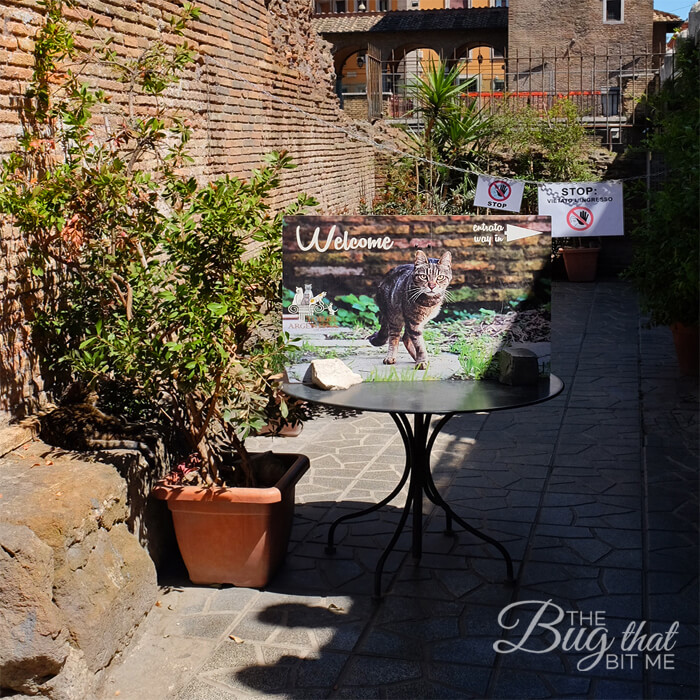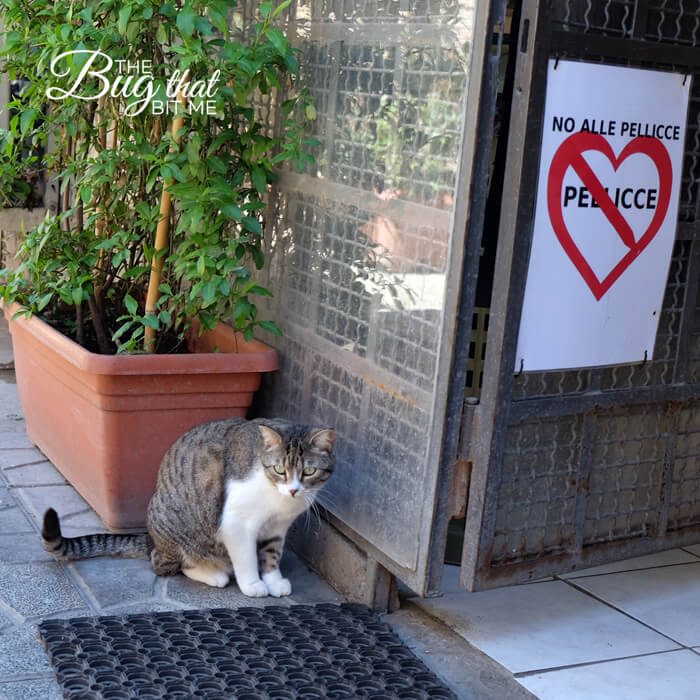 Upon entering the rather claustrophobic shelter area under the ruins, I was greeted by a very friendly volunteer with excellent English skills. She patiently led me around, introducing me to the cats, explaining how the shelter works and the needs of the feline community. It was clear that this was a woman who cared deeply about her work.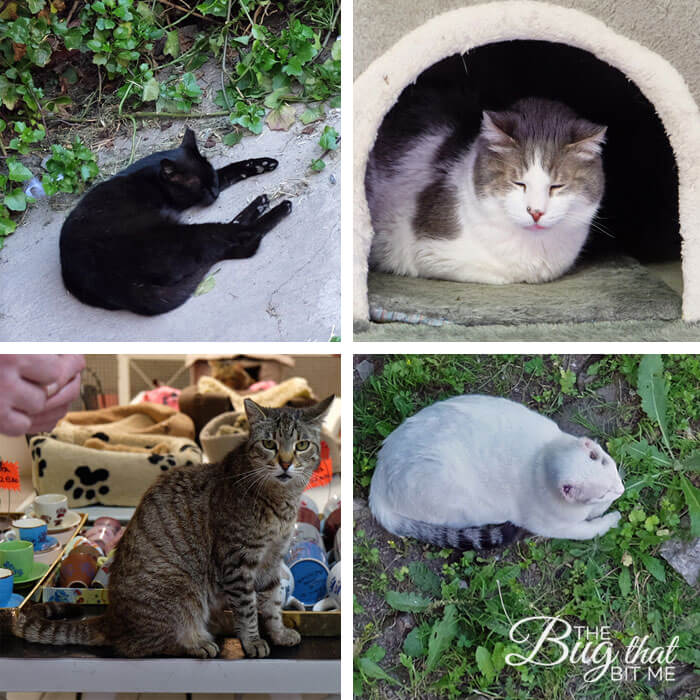 Some facts I learned about the shelter and the cat population:
There are currently 120 cats being cared for at the shelter. Many are blind. There are seven three-legged cats, injured by run-ins with cars.
Several white cats had no ears. I was told that it is common for the white cats to get skin cancer in their ears from the sun.
There a many blind cats at the shelter, several of them kittens. Cats on the street often get feline chlamydia at birth or as young cats, and if left untreated, it usually causes blindness.
The shelter fixes all cats that it comes in contact with, performing around 5,000 spays/neuters a year.
They need foster homes for the immature kittens. Very young cats can be at risk of disease in the shelter and need special care until they are old enough to get vaccinated. Rome residents are desperately needed to help out. The shelter covers all costs associated with the fostering!
The shelter also adopts cats out. While some of the cats will live at the shelter for their remaining days due to things like a feral nature or serious disability, many cats find forever homes. There is no cost to adopt, but the shelter does ask to be reimbursed for the vaccines, de-worming, sterilization and testing for FIV and FeLV. Currently this is about €85.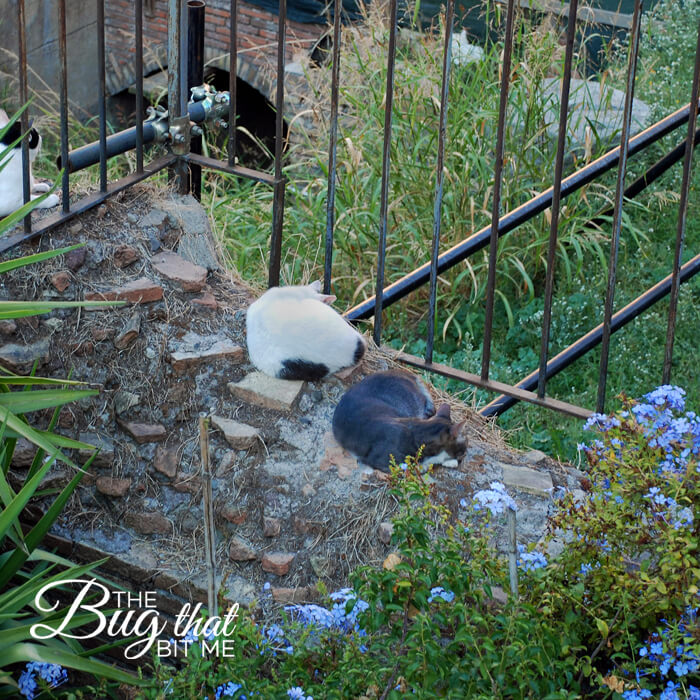 Supporting the Shelter
The shelter has no organized support system, and in fact, are constantly under threat of being evicted, as they have no lease on the shelter site. So far, strong support from the community is what's keeping the shelter open in its current location. There are several ways to support the shelter and the great work that they do.
Give a monetary donation of any amount! This is the easiest way to help out and does the most good. You can give a donation in person at the shelter, make one online, or send a transfer. More info on where you can do that is here.
If you live in Rome and can offer a cat a good, permanent home, you can adopt a cat. The sanctuary takes the matching of cat and owner seriously, so go talk to them if you're interested.
You can foster a sick cat or a kitten, at no cost to you. Again, this is for those based in Rome.
You can purchase something from the gift shop. All proceeds go to helping the shelter operate. In the shop you'll find things like the annual calendar, mugs, toys, pet beds, totes and t-shirts.
You can make a long-distance adoption. Yes, you can support a cat (which in turn helps the entire shelter) from afar! More info on that here.
While the shelter depends on donations to stay open, at no time was I pressured to make a donation, and in fact, it wasn't even brought up. (I do encourage you to do so, though, if you can!)
What, When & Where
Torre Argentina Cat Sanctuary.
Open daily from 12:00 – 6:00 p.m.
Entrance at Largo di Torre Argentina, at the corner of Via Florida & Via di Torre Argentina. The entrance to the sanctuary is down the stairs. Note you can't enter the actual ruin site, only the sanctuary.